The old analogy of the three-legged stool applies to your firm's digital marketing strategy. For marketplace success, you need more than a clear message. You also need an outstanding website experience and a compelling social media presence.
Without any one of those pillars of support (message, website and social channels), your firm will be wobbly—and irrelevant.
Strengthening your brand and message through your website is a no-brainer. After all, your site plays many roles for your firm. Your website is likely the first exposure your prospects have, so it has to provide a compelling experience. It should demonstrate your unique positioning. Your site should also educate your prospects and invite them into a relationship with you.
But communicating to prospects through your website is simply not enough.
All of the roles your website plays—differentiation, education and invitation—social media can also play. But unfortunately many law firms are still brushing social media channels aside. They are categorizing them as superficial fluff. Or treating them like optional bells and whistles instead of essential engine parts.
Now's the time to make your social media channels the brand distribution powerhouses that they can and should be.
Differentiate Your Law Firm's Brand With Social Media
You've made sure your website accurately reflects your identity as a firm and the services you offer. Your audiences—both current and potential clients—can step in your digital front door and immediately see who you are. Your brand guidelines are born of a finely tuned marketing strategy and leave nothing open to interpretation. You've decided how you want to present your brand, from colors and fonts to images and language choices.
That focused work can pay off in spades. But it doesn't end there.
Extending your brand identity with social media isn't a frivolity. With each and every social media post, you keep your firm in the game. Social media provides opportunities to:
Reinforce your positioning. If your prospects have spent any time searching the internet to solve their legal problems, Google's algorithms ensure possible "answers" that appear in the form of ads and suggestions. As your prospects scroll through their personal Instagram feeds or grow professional LinkedIn networks, it's likely they'll encounter your competitors. Pulling ahead of the pack requires highlighting that 2% difference between you and them—at every possible opportunity.
Further develop a visually identifiable brand. Good design is strategic. Every element of your online presence should be intentional and uniform. When you increase prospects' exposure to your firm's aesthetic through regular social media posts, you also increase your chances of being instantly recognizable. And the psychological phenomenon of mere exposure effect tells us that what's familiar is also preferable.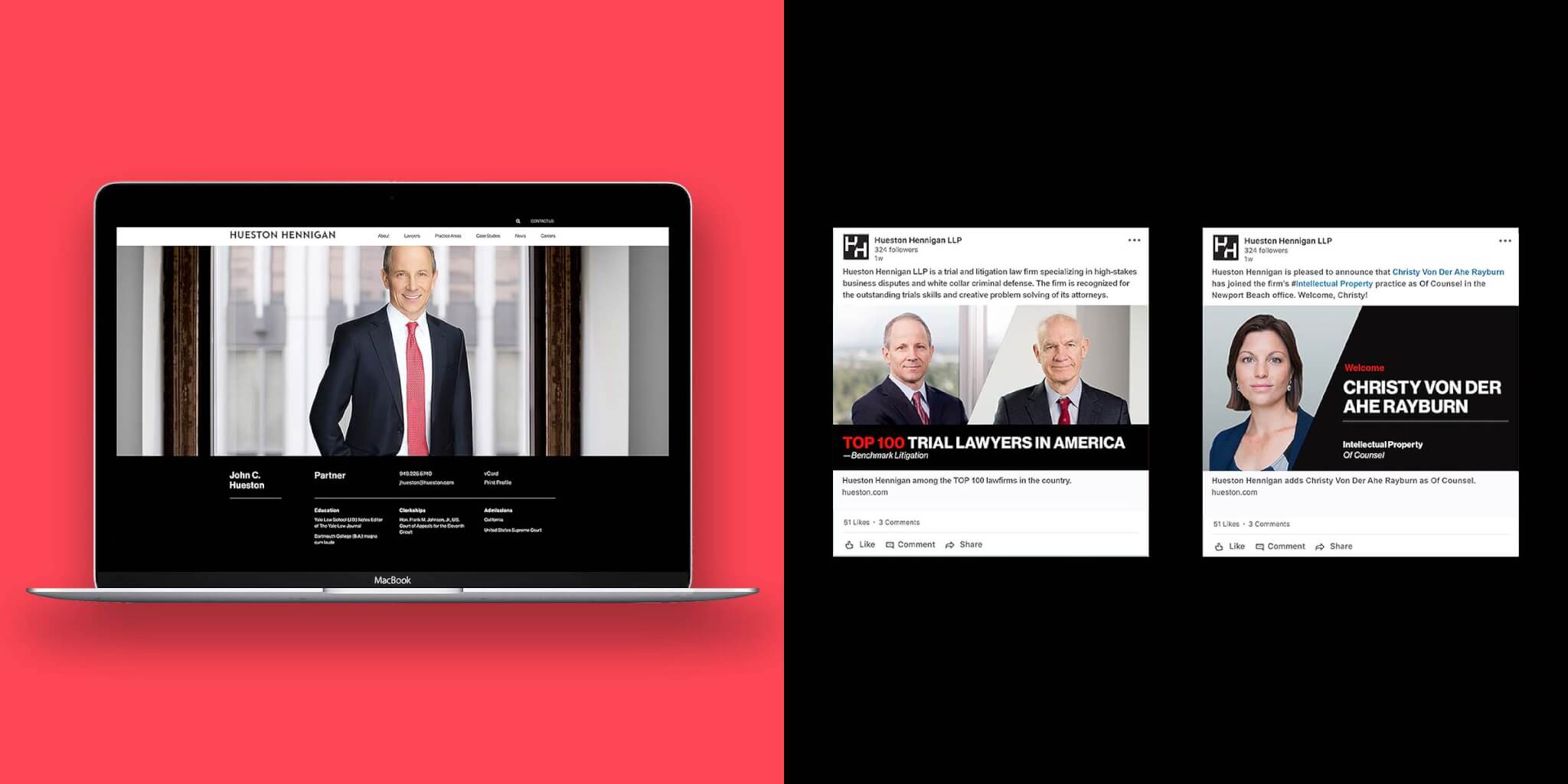 Let Your Social Media Channels Educate Your Prospects
Not only can you multiply your prospects' exposure to your brand through social media, you can also offer them free education. If you know your prospects well enough, you know what they need to know. Giving away your thought leadership in shareable pieces through carefully-designed social posts is mutually beneficial. You'll build credibility, and your audience will learn to trust you as they learn from you.
Some social media platforms are better than others when it comes to sharing your thought leadership expertise:
LinkedIn is geared toward professionals looking to build their networks and/or find new career opportunities. If you're using LinkedIn just to share promotions and accolades, you're not fully utilizing the platform's potential. It's ideally suited for showcasing your firm's experience, authority and connections. LinkedIn users are accustomed to seeing article excerpts. They're more likely to take the time to click on them and be redirected to your website content. Eventually, those readers may have a need for a law firm (or know someone who does) and will be ready to make a connection. The free education you've offered can determine whether they call you—or your competitor.
Instagram has roughly one billion active users. Most businesses know and use Instagram to feature pictures, short videos or 24-hour life "stories." Your firm may already be using Instagram to share news, but don't stop there. You can bolster your firm's reputation by sharing substantive content. For example, consider elevating a cause of interest to your audience. Share pertinent photographs and write succinct, pithy copy to educate and entertain. Respond to comments in a timely manner, and always keep an eye on your competitors' Instagram presence.
Initiate and Grow Relationships—Social-style
We all know perception isn't always reality. But your firm could be perceived as aloof or intimidating because of your expertise and gravitas. One way to counteract this misconception is through your social media presence. Social media platforms are extraordinary tools that can make your firm relatable and accessible. You don't have to throw away your authority or diminish your experience in socials—you can simply repackage them. Doing so as part of an overarching digital marketing strategy allows you to:
1. Answer prospects' questions instantly. About 500 million tweets are sent per day. If your firm isn't on board yet with Twitter, you're missing a chance to share information quickly and engage in conversations. You should use Twitter to strengthen the voice and personality of your brand. You can provide answers your prospects need, while showing them that you're attentive and responsive.
2. Give your prospects a behind-the-scenes look at your firm. Instagram gives your firm an opportunity to show your humanity, not just your authority. Use this social media platform to drive awareness of the work of particular people or new practice areas with endearing and candid pictures and videos.
3. Flesh out topics that are priorities to your prospects—live! Clubhouse is the newest player in the social media landscape. It is an audio-only, drop-in style app. Nothing is archived and nothing is pre-recorded. Clubhouse presents a new way to host a topic-specific chat room. Your firm can create a sense of community with prospects through live conversation. So rather than enhancing your brand per say, you're able to empower and give voice to real people— both from within your firm and without. Because Clubhouse is new, it is also a place to experiment. Try addressing controversial issues and test out new ideas.
Disregard or de-prioritize social media and your firm will fall behind. And you'll look out of touch. If you use these social tools regularly and skillfully, you'll have potent ways to distribute your firm's brand to best-fit prospects.