Challenge
To mark the company's 75 years of success, and expansion of financial services, senior management wanted a communication suite that would reflect its importance.
Solution
With our disciplined discover process firmly in place we looked at the market and the company's personality and value proposition and recommended a mixture of print and digital communication to reach all constituents.
Result
A suite of communication to reach a multi-generational audience, each providing a unique experience.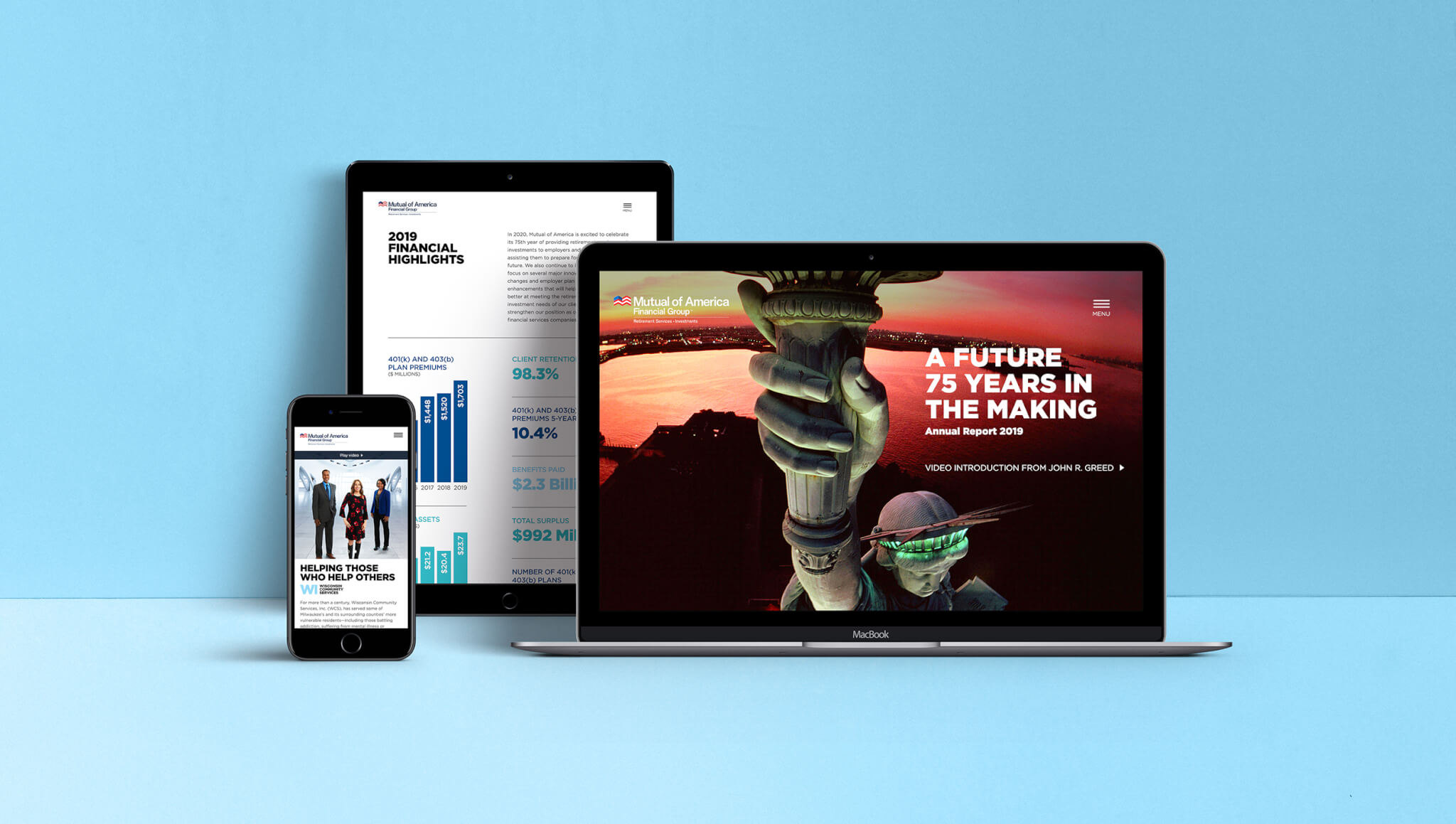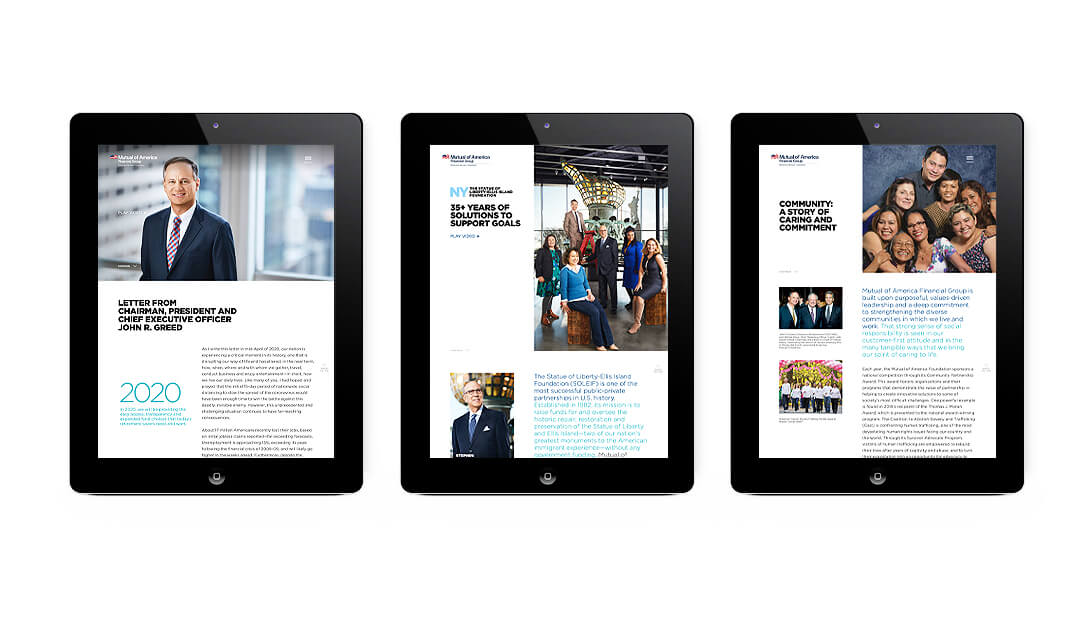 Founded 75 years ago, this financial services company was originally built to serve the needs of non-profits who were excluded from the original Social Security Act. It's hard to believe, in light of the current pandemic, that our first responders, nurses and other care givers had to face their retirement in poverty.
Our client stepped in to fill this void. Over the course of their history, growth was steady and by the end of the 20th century included not only major non-profit organizations, but also for profit small businesses.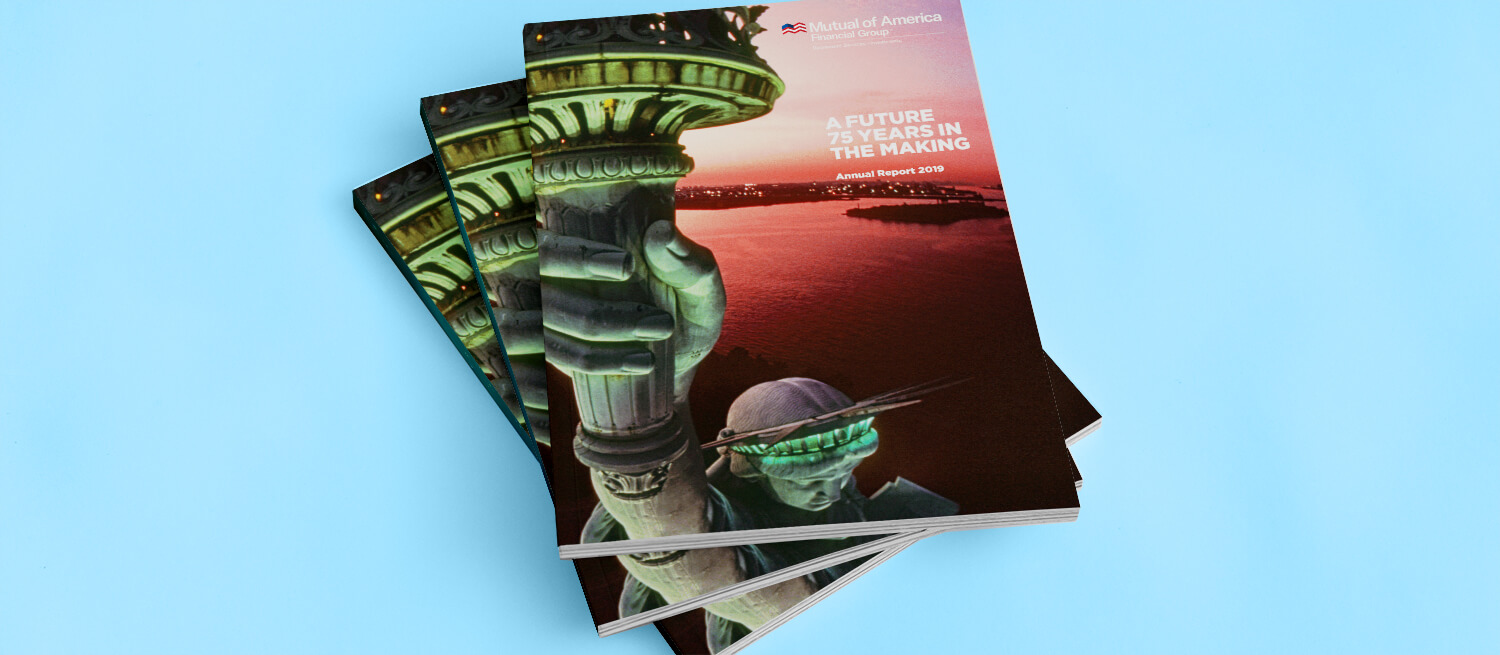 The chairman specifically requested that we approach the cover with an eye to American iconography. Upon hearing that one of the clients was the Ellis Island/Statue of Liberty Foundation we began the search for Peter B. Kaplan's archive of some of the most magnificent images of the statue. Kaplan photographed the statue hundreds of times and created his storied reputation by literally hanging out of helicopters to get the perfect shot.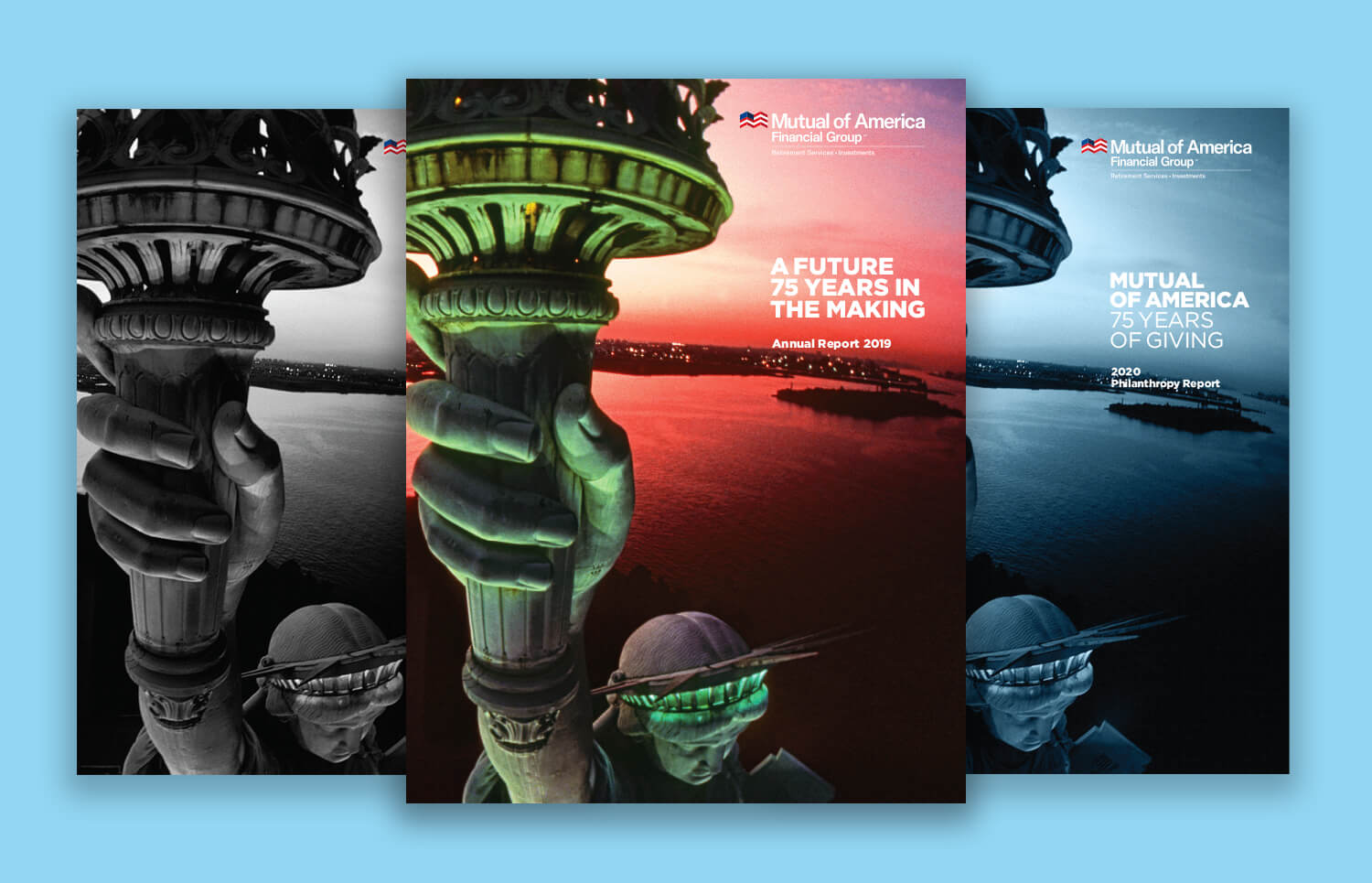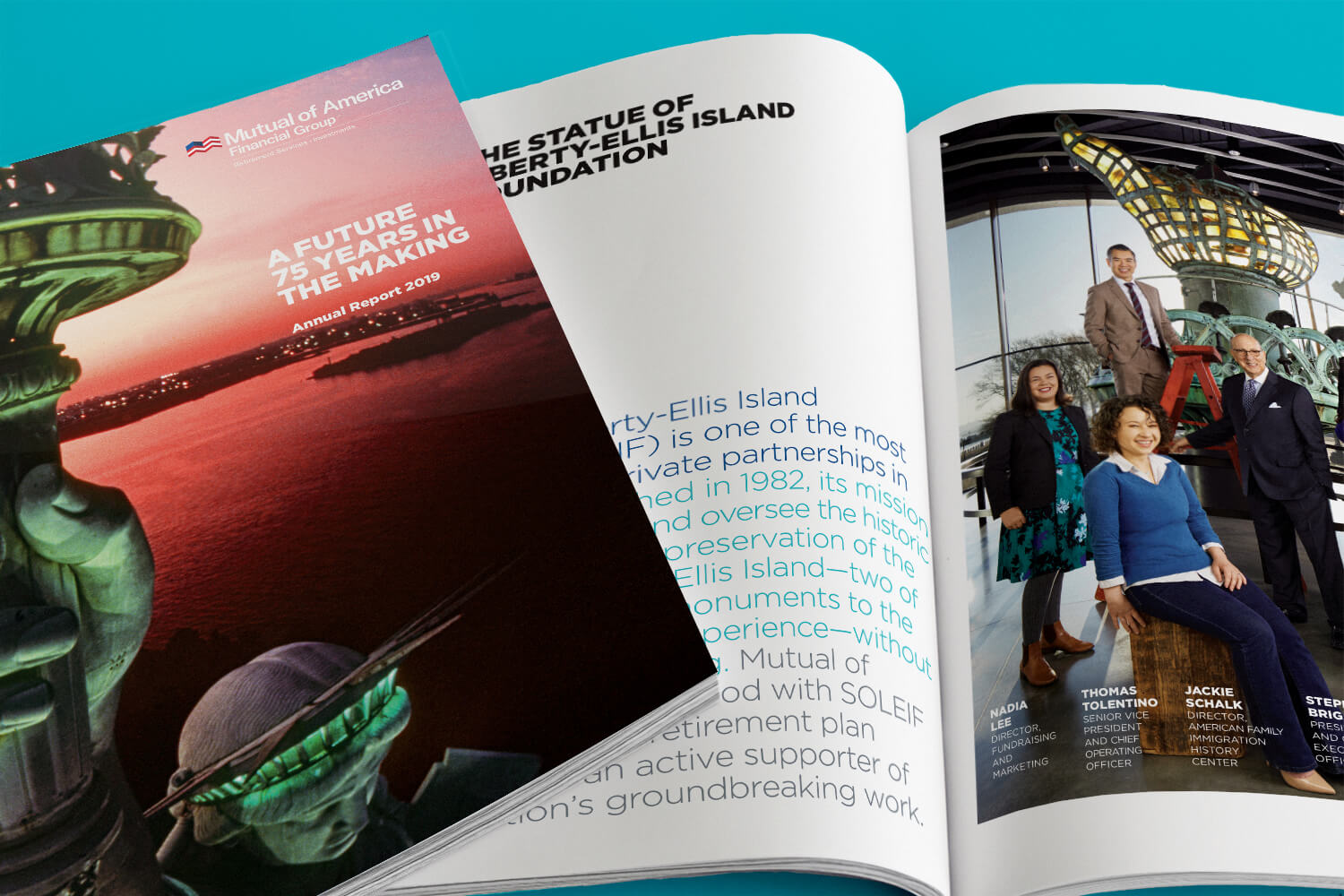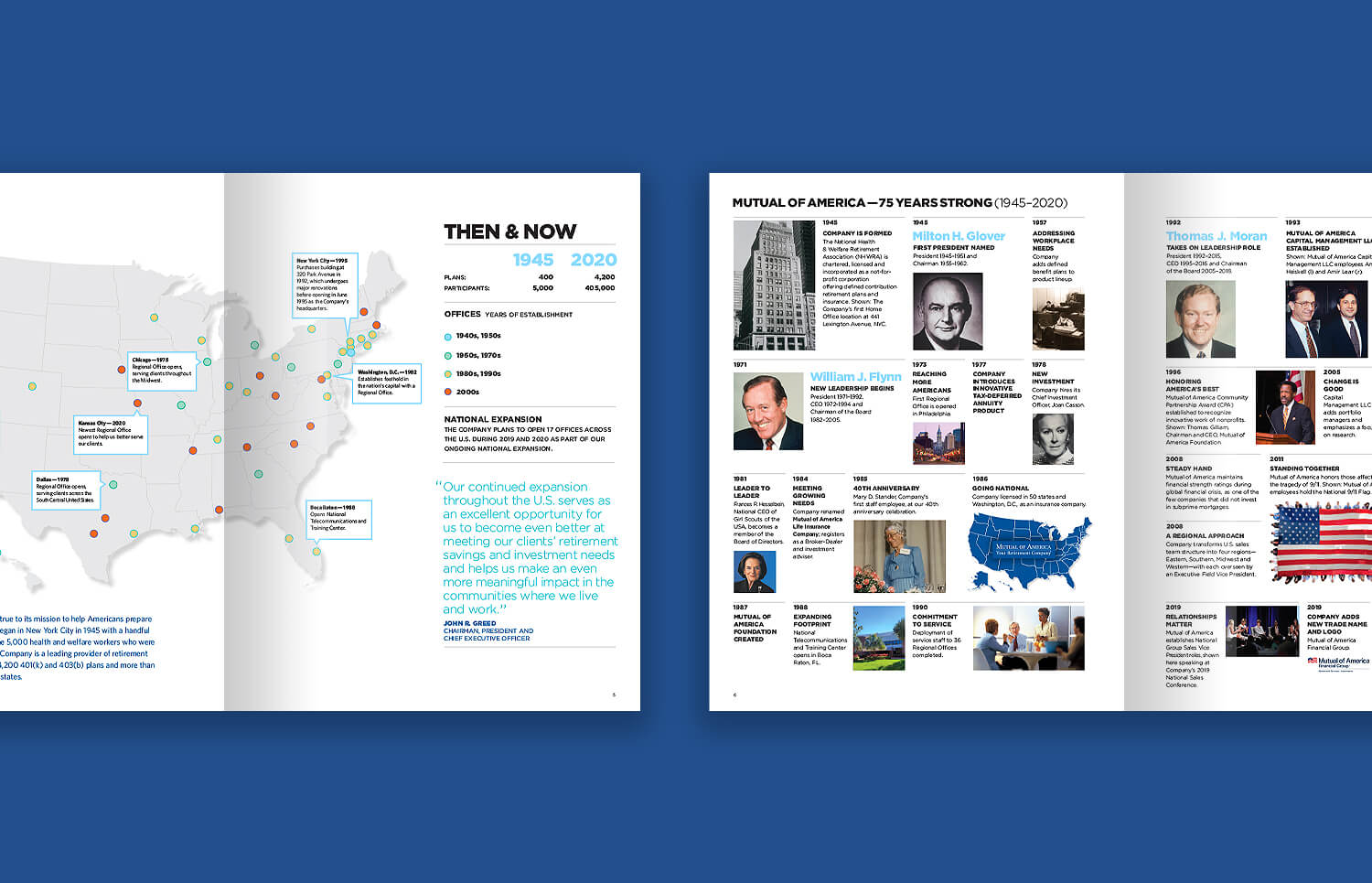 Our solution began with three printed books, the annual report, a philanthropy report and a financial report. Print remains an important communication tool in the non profit sector where technology and bandwidth remains a challenge. Older participants as well, are more comfortable with paper.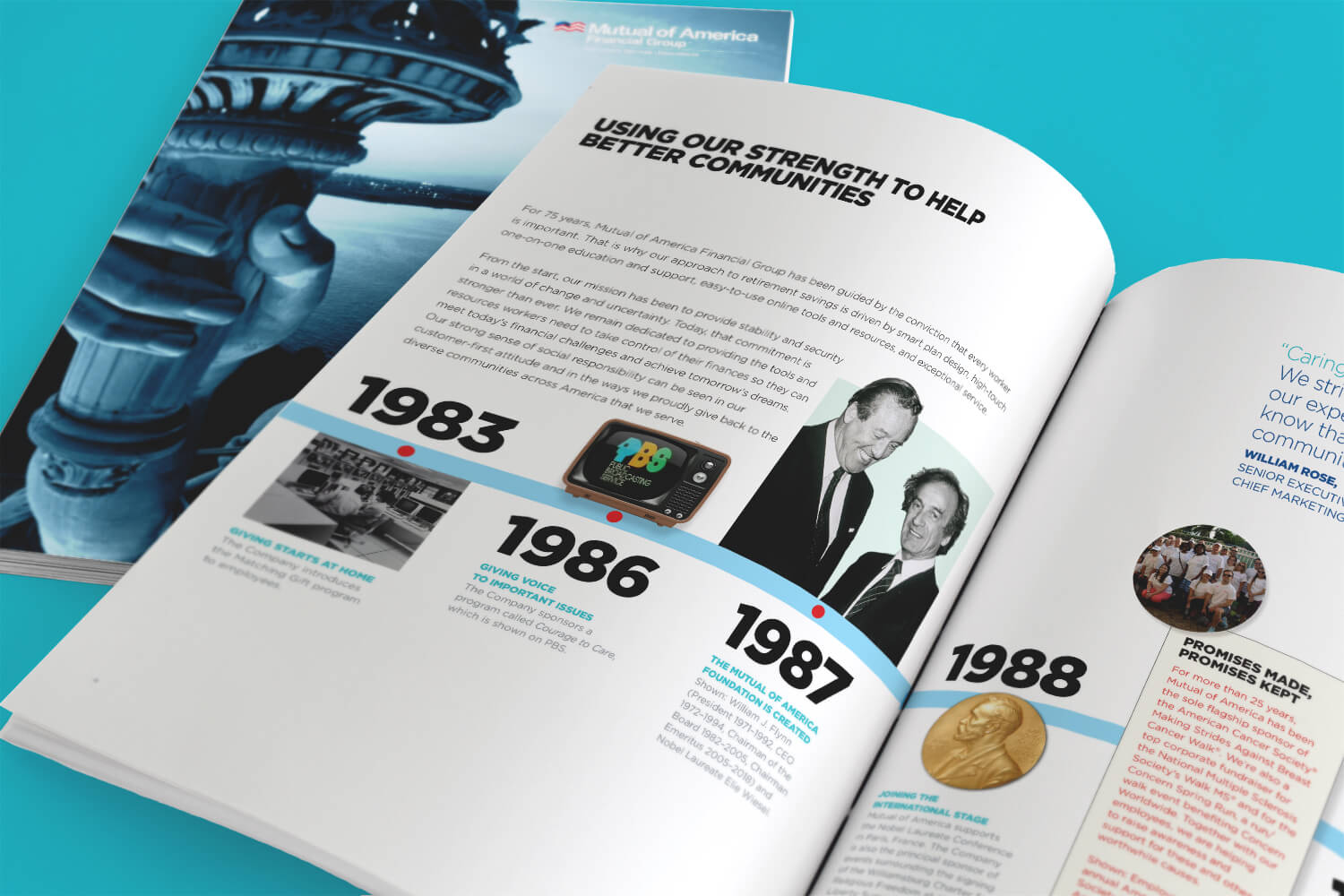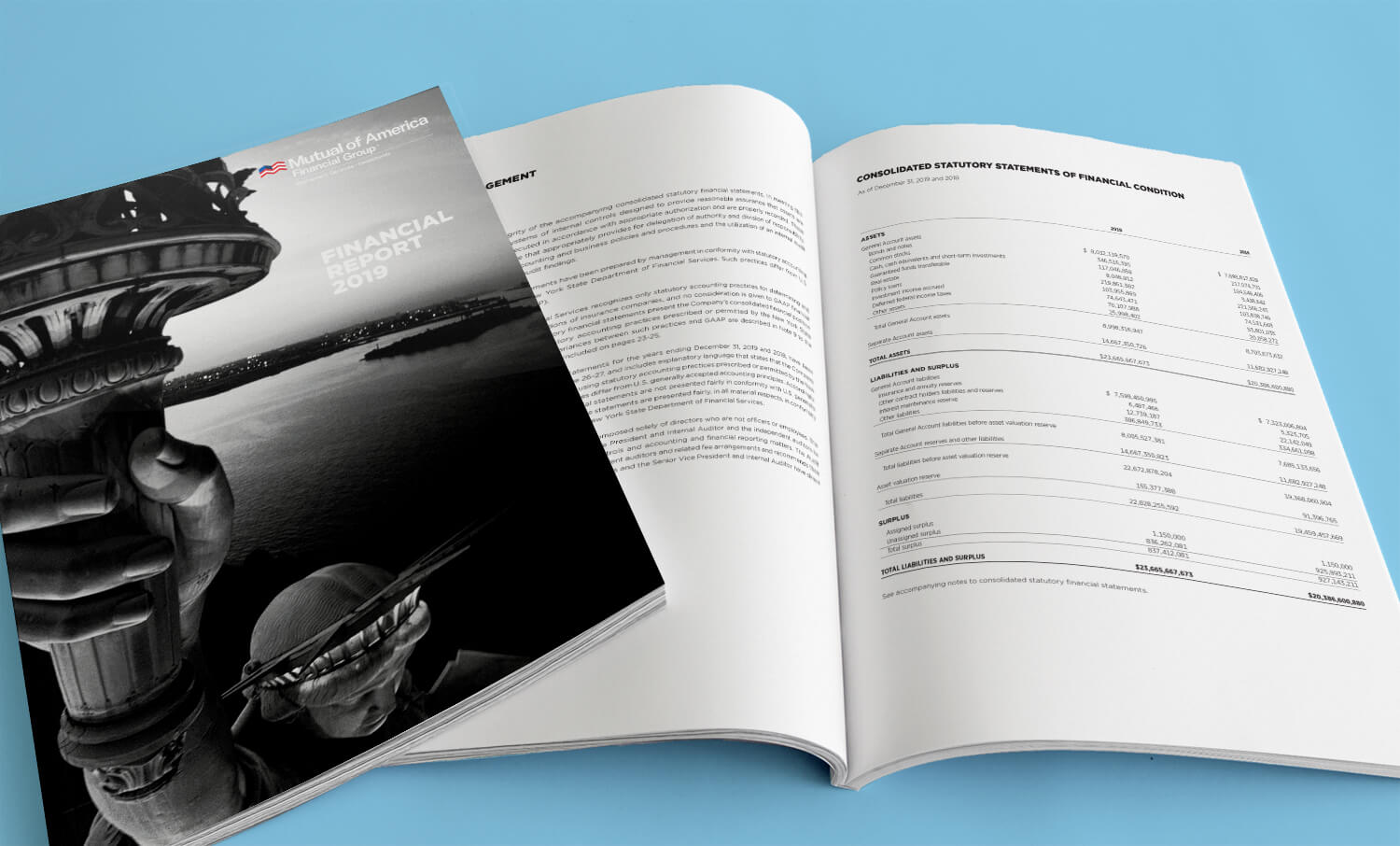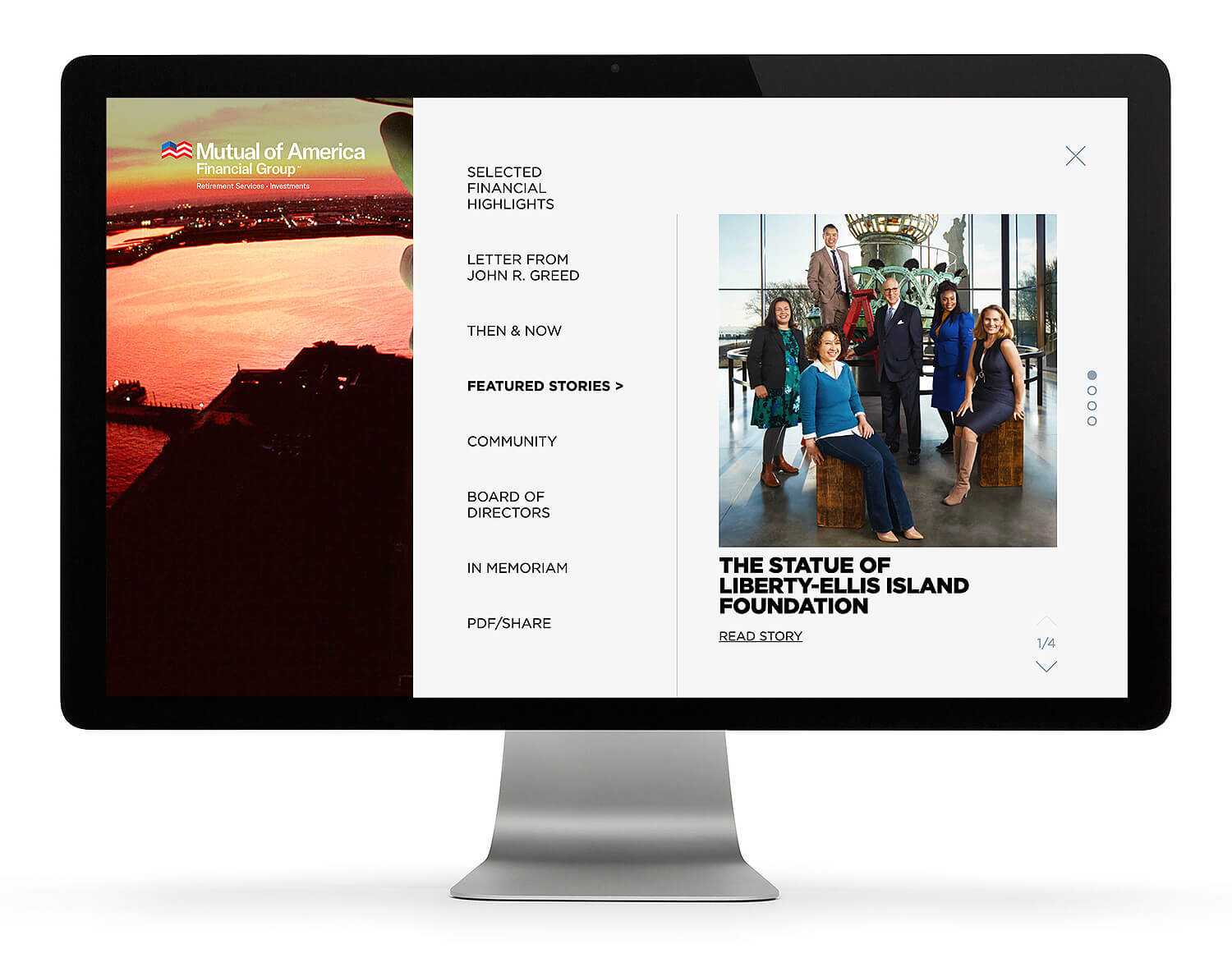 Creating a microsite allowed us to explore more possibilities and use interactive tools to increase engagement. When clicked the hamburger style site navigation reveals a preview of the editorial content.
To celebrate the company's 75th anniversary, we explored their history and created two interactive tools to tell the story. The first tells the story of growth and success—an interactive map illustrating its growth—the slider moves to reveal dates and company office additions over time.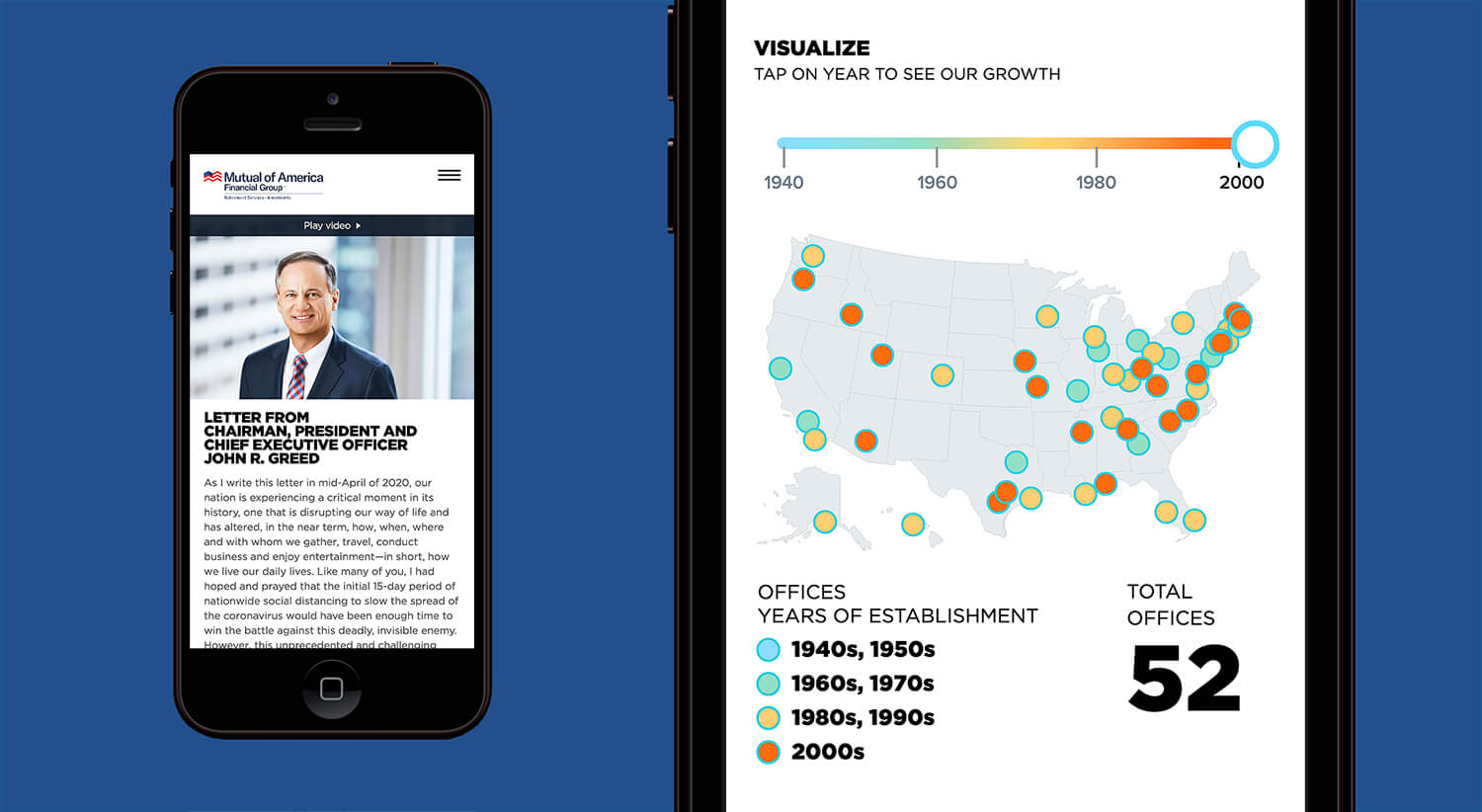 To achieve a more nuanced perspective of the company's history, we created an interactive timeline that illustrates leadership, significant events as well as relationships with various presidents and Nobel Laureate Elie Wiesel.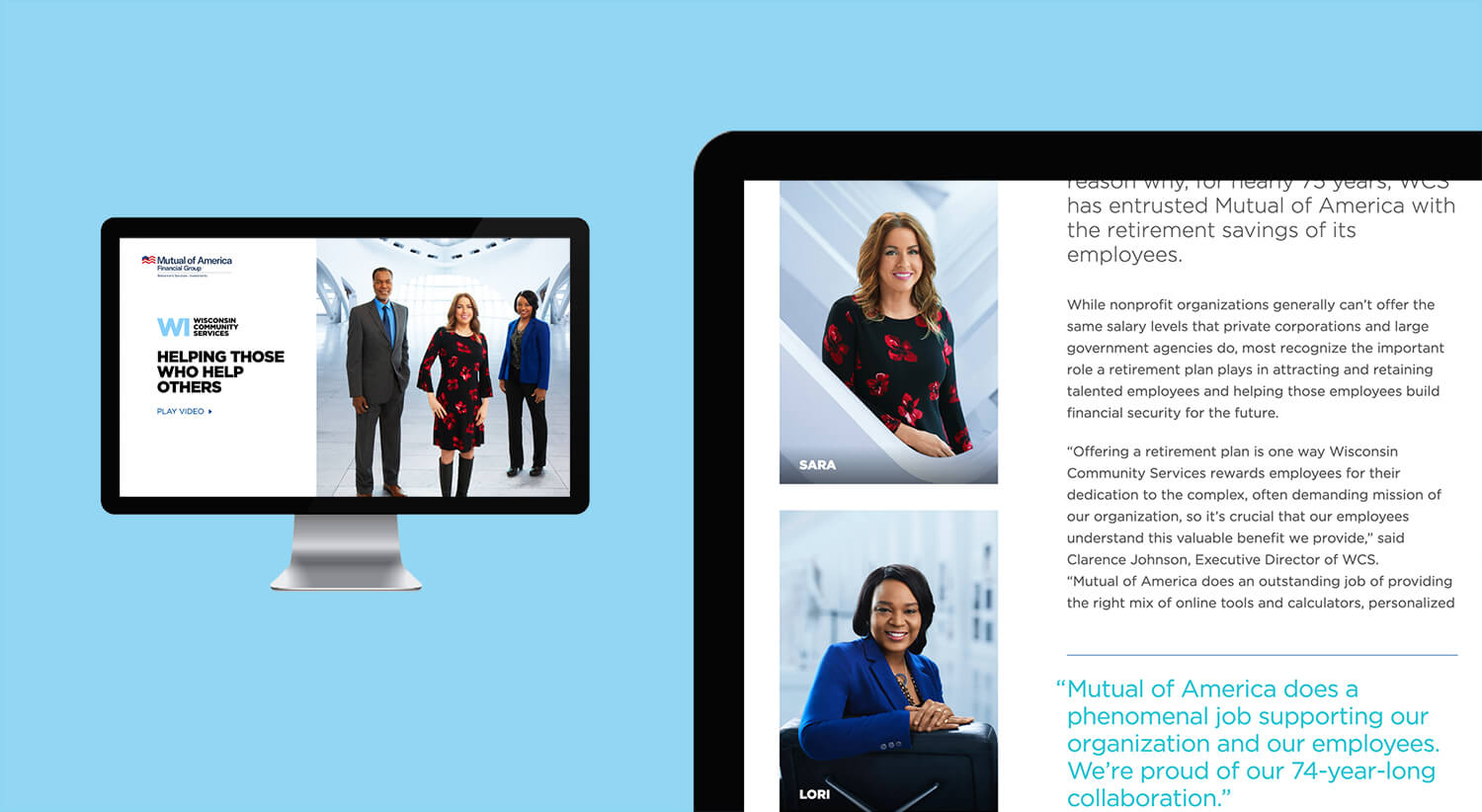 While the timeline covers events of the past, the feature stories focus on the present. Each of the four client companies was photographed and recorded on video on location in New York, Los Angeles, Milwaukee and Greenville, South Carolina. The editorial content is complimented by interactive factoids and quotes revealing the impact and respect they hold for the company.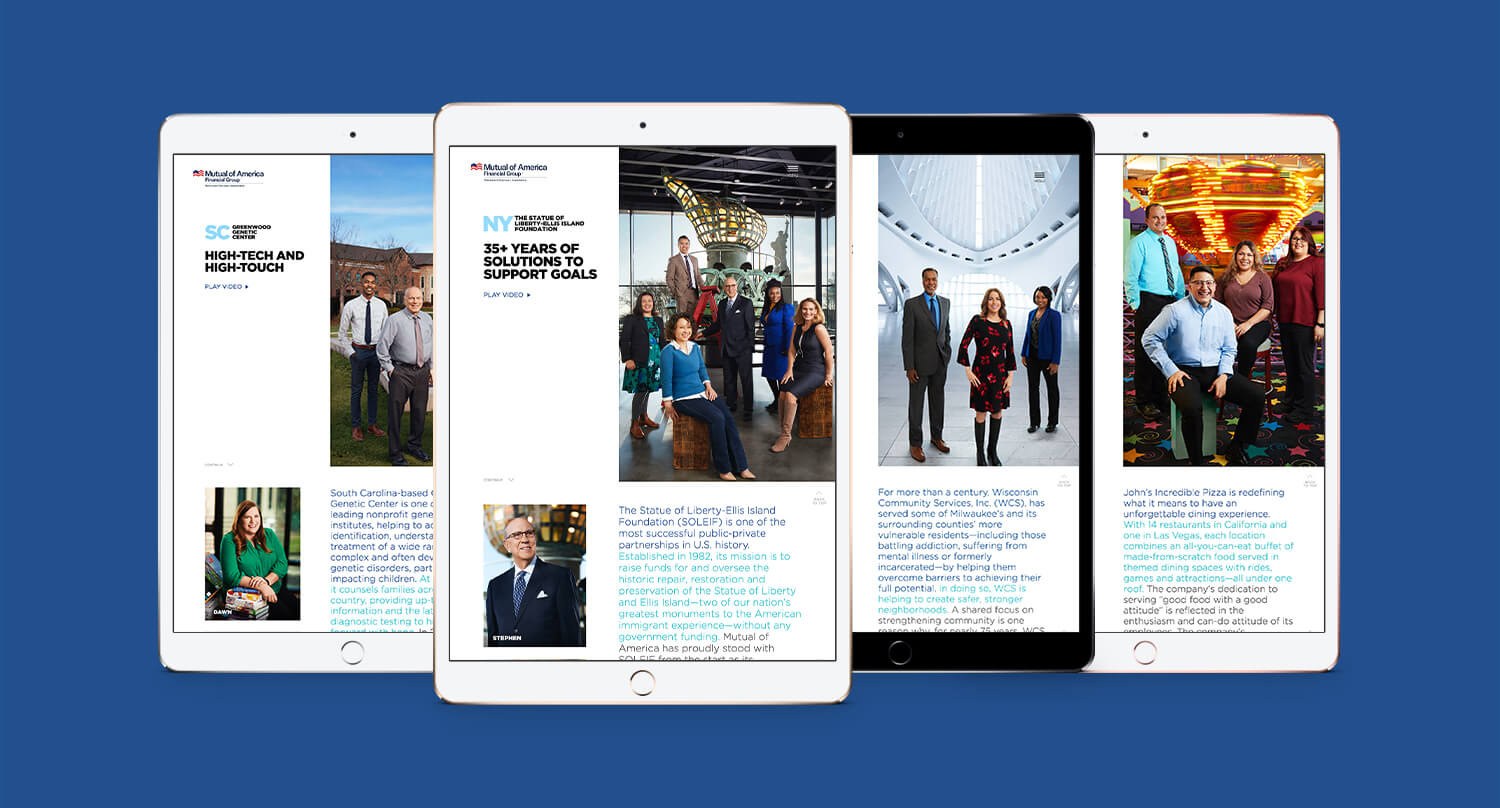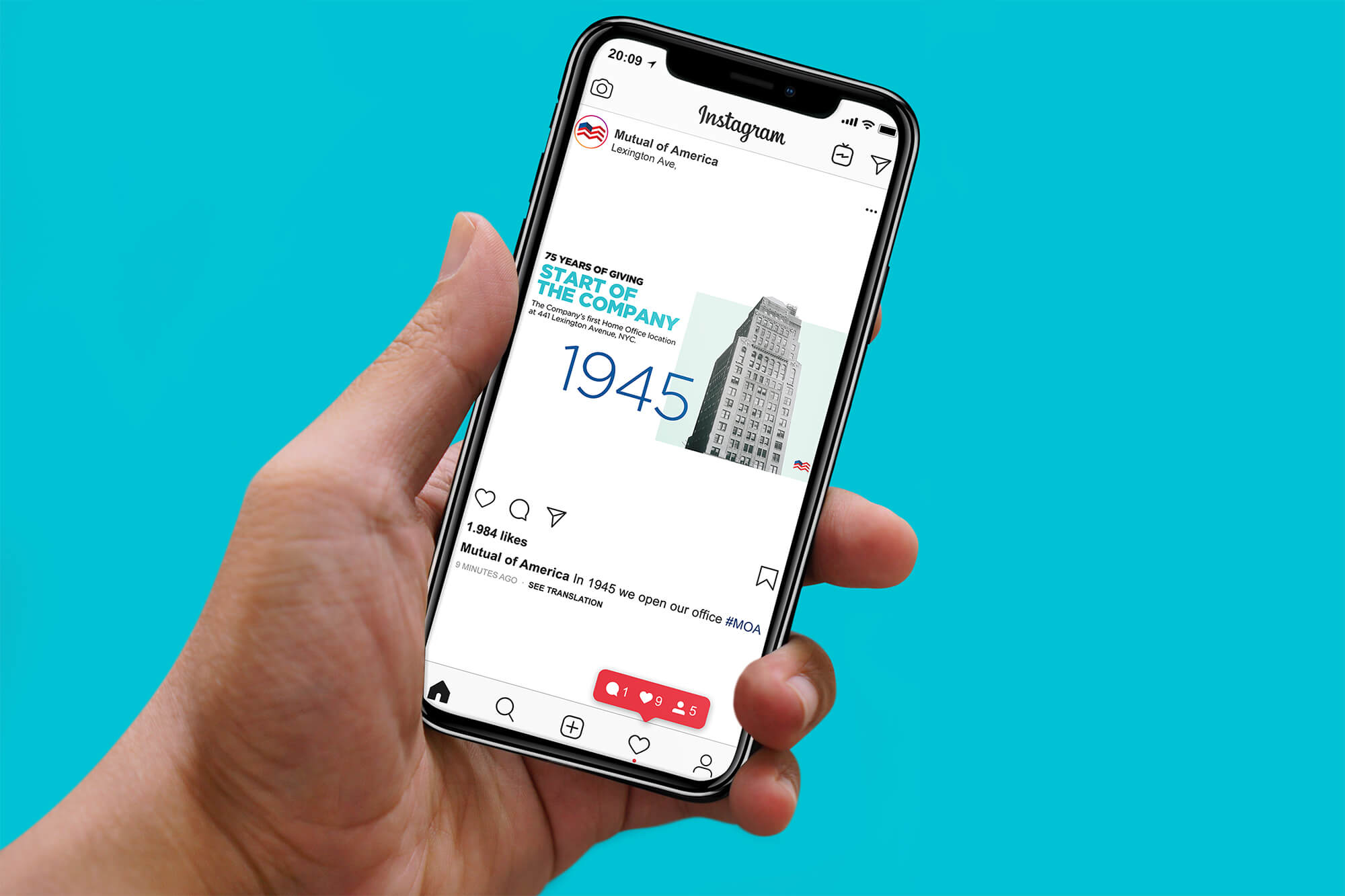 Creative Director – Lynda Decker
Senior Designer – Susanne Adrian
Senior Designer – Kevin Lamb
Junior Designer – Jason Mangelson
Interactive Designer – Ryan Bresser
Awards Won:
GDUSA American Web Design
Graphis Design Award – Silver Award
Have a project we can help you with?