Challenge
In an increasingly crowded legal marketplace, litigation boutique Hueston Hennigan needed to effectively articulate its unique differentiators. We were tasked with helping the firm crystallize and express its positioning.
Solution
A rigorous discovery period—including a series of client interviews—and a comprehensive brand strategy built around Hueston Hennigan's high-profile, precedent-setting work.
Result
A bold new brand identity and visual presentation that not only communicates the firm's capacity for innovation, but also positions it for continued growth.
After it was founded in 2015, Hueston Hennigan quickly made headlines for its work for high-profile clients like SpaceX and the Navajo Nation. However, the firm wanted to define its brand beyond the two name partners, as well as exude gravitas while retaining its youthful energy.
View website.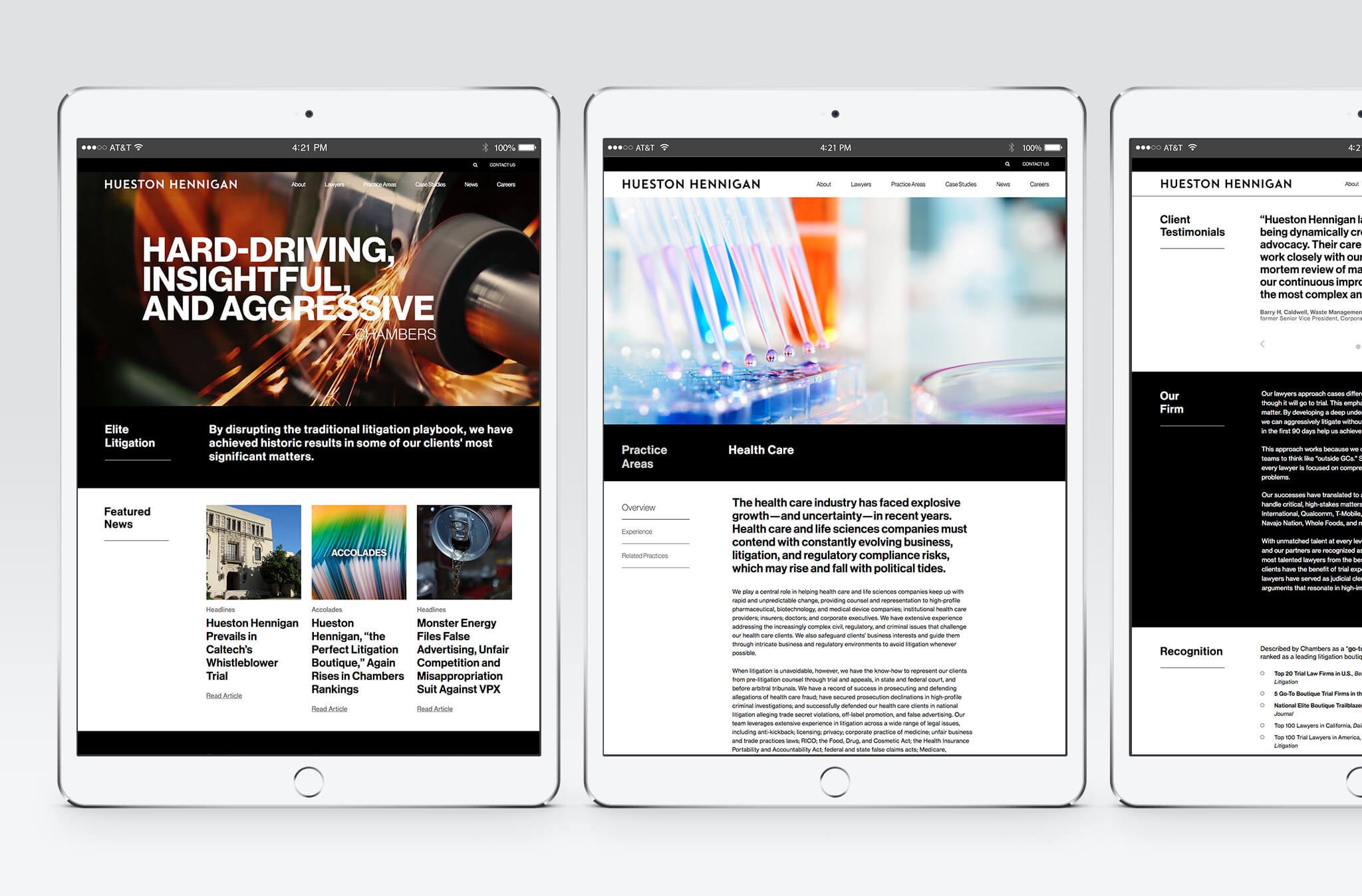 Working with content partner Deborah Gaines Associates (DGA), we launched the project with an in-depth research and discovery period. We conducted analyses of the firm's competitive landscape and existing communications, then interviewed internal stakeholders and clients to uncover the firm's true differentiators. Several key themes emerged from the interviews, which we translated into branding recommendations that reflected Hueston Hennigan's intelligence, creativity, and exceptional results. Our proposed content and visual strategies aimed to "walk the walk" of the Hueston Hennigan brand: clear, energetic, and assertive, with enough friendliness to make target audiences feel welcome.
As a true disruptor in the legal space, Hueston Hennigan needed a bold website that mirrored its capacity for innovation.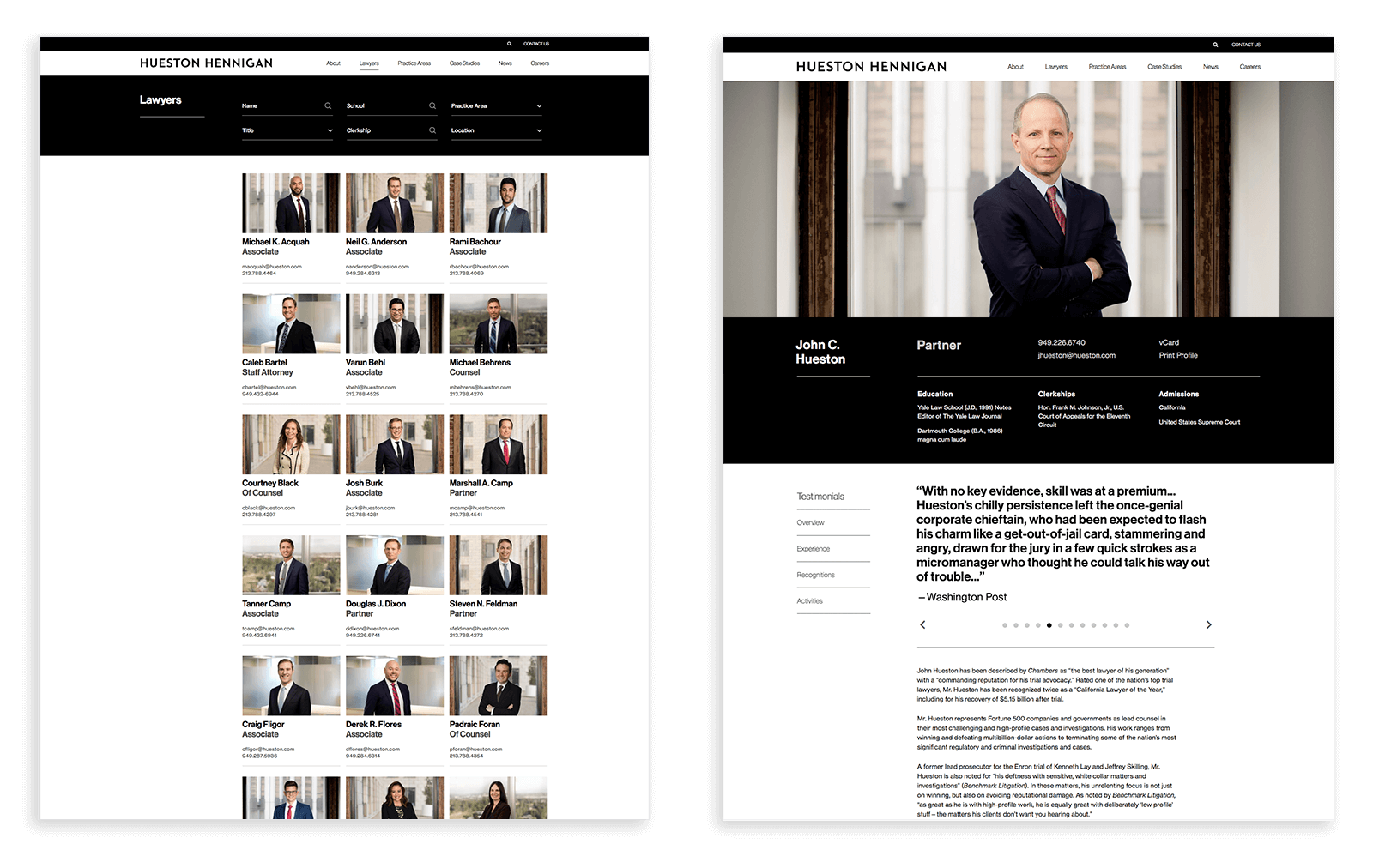 As a true disruptor in the legal space, Hueston Hennigan needed a bold website that mirrored its capacity for innovation. While we incorporated best practices used by market-leading law firms across the nation, our team also looked to major consulting firms—which embraced innovation and technology long before the legal industry—as models for a high-energy, cutting-edge web presence.
Lynda and her team's creativity and in-depth knowledge of the legal space were invaluable in crafting a brand that really reflects who we are."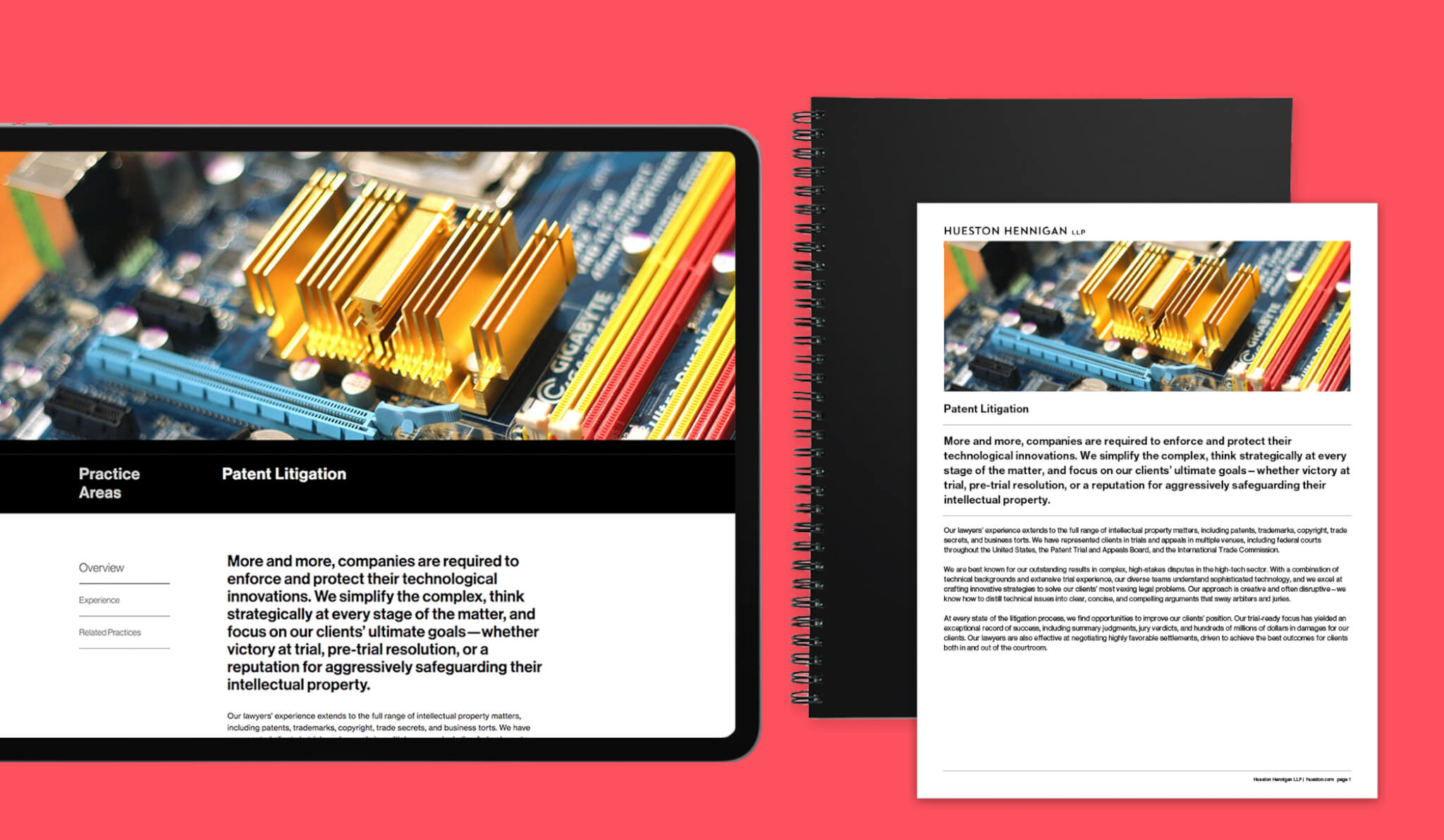 We delivered a dynamic, action-oriented visual design, conveying the firm's power, strength, and contemporary tone. The grid-based layout mimics news websites with a black-and-white color palette to highlight crucial details, offset by bright pops of color in the photography. The homepage features animated text accolades—inspired by film titles, a nod to the firm's LA base—overlaying high-powered footage of cityscapes and technology, offering visitors a dramatic first impression.
The website also offers a clean, organized user experience designed to keep visitors engaged and clicking. We simplified site structure and navigation, integrated related content blocks throughout the site to direct user flow, and built interactive page elements to transform cluttered video and testimonial content into streamlined blocks. We also implemented search and filter functionality to enhance content findability as well as the site's overall user experience.
All copy was rewritten to relay information clearly and concisely. To showcase Hueston Hennigan's historic results in high-profile matters, we collaborated with DGA on a collection of short, punchy case studies, which describe why the work was noteworthy and how the firm prevailed.
Decker Design guided us through the complex business of rebranding with ease and wisdom. Lynda's team is incredibly professional and responsive, and they worked tirelessly to creatively express our brand. I would recommend Decker to any law firm."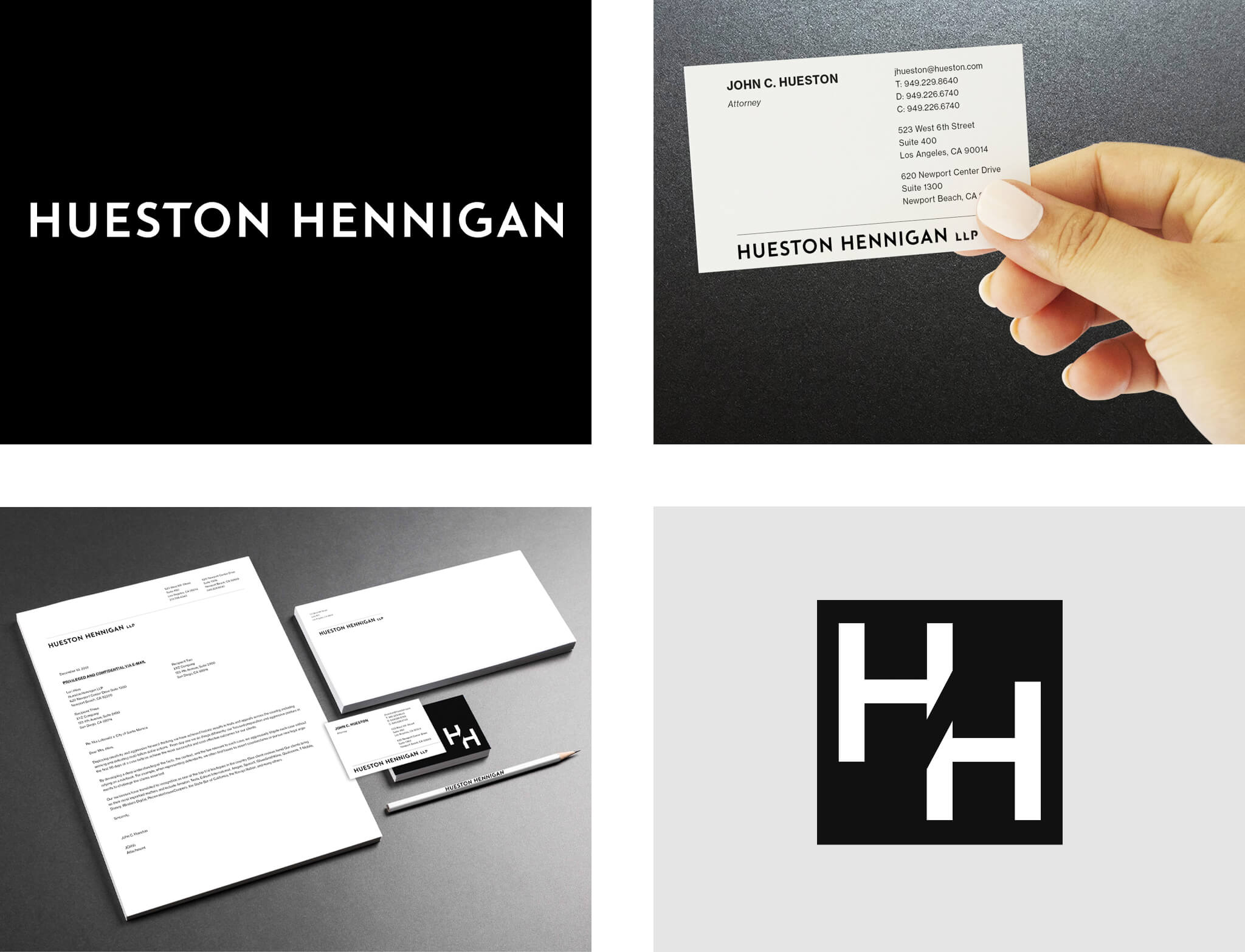 Finally, we created a comprehensive brand system to reinforce Hueston Hennigan's positioning across print and digital media. All assets in the system—including business cards made out of ultra-modern Neenah Techweave paper, email and social media post templates, pitch decks, firm gifts, stationery, email signatures, and more—were carefully crafted to establish internal and external visual consistency. Each element can be easily edited or produced as needed by firm professionals, ensuring that the Hueston Hennigan brand remains strong and coherent for years to come.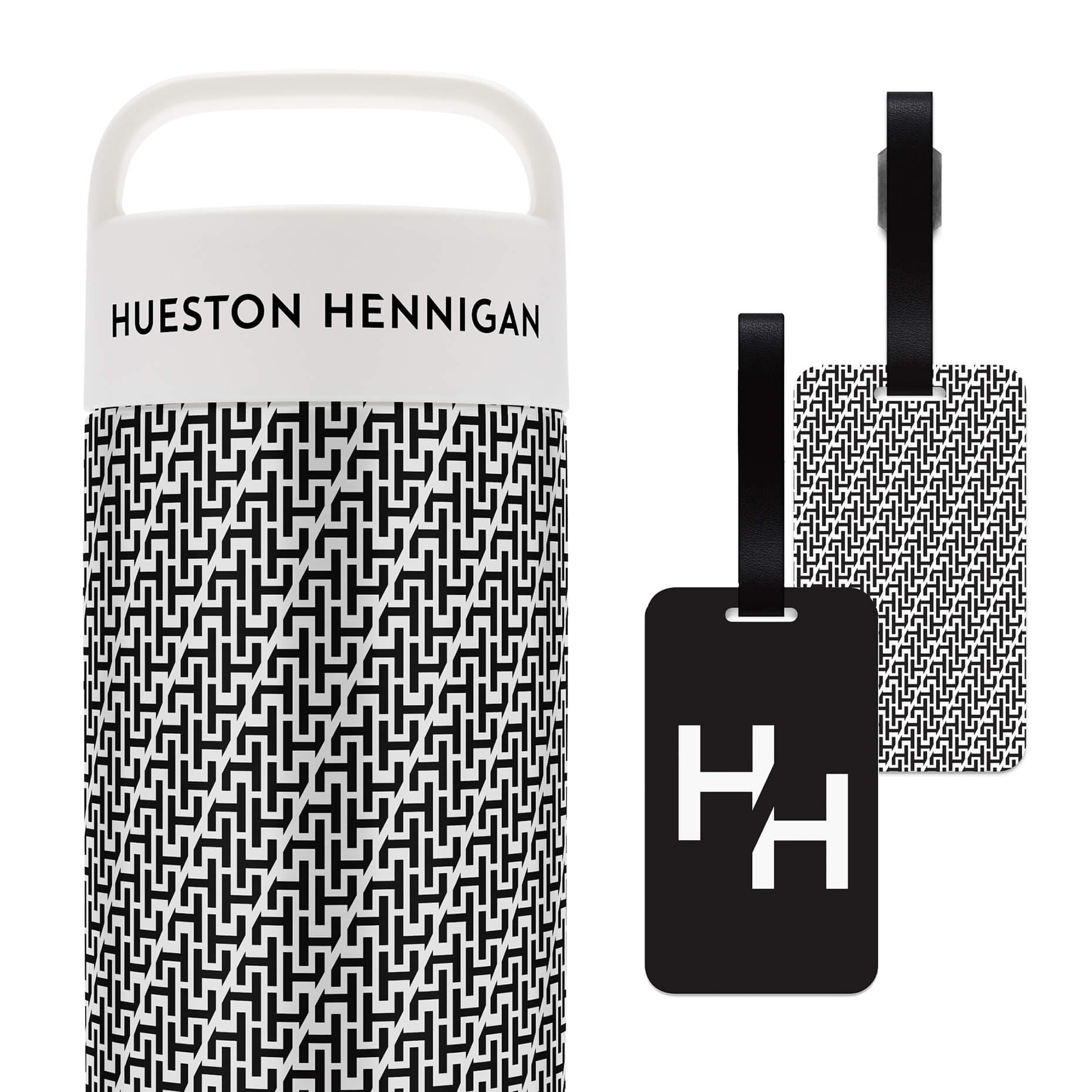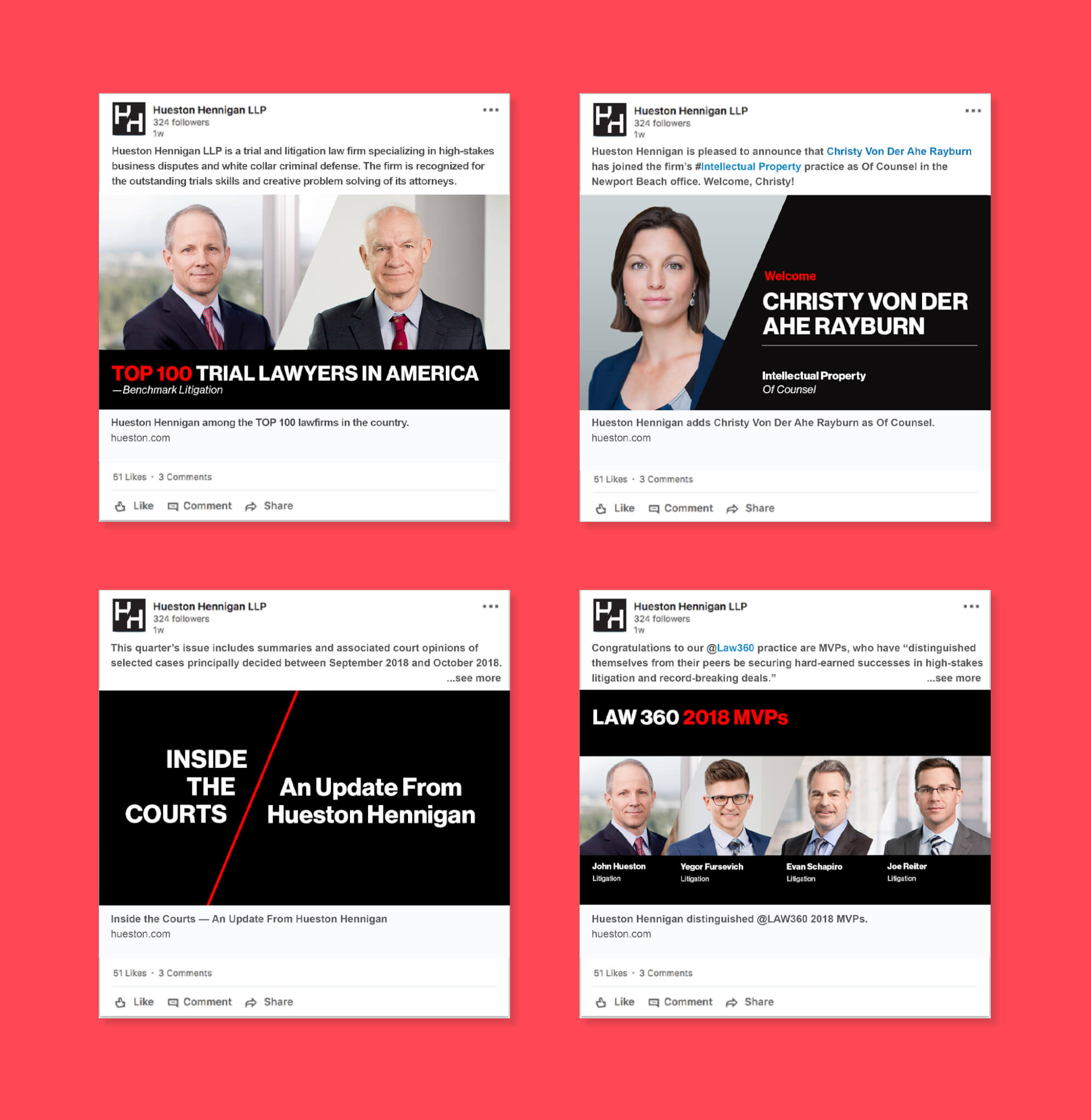 Have a project we can help you with?