Challenge
After five years of successful growth, litigation boutique Walden Macht & Haran (WMH) set its sights higher—to make the short list for large institutions looking to hire for blockbuster matters.
Solution
Through a disciplined strategic discovery process, we found that New York City-based boutique firms were presenting virtually indistinguishable brand communications, creating a gap in the market WMH could easily fill.
Result
A highly differentiated brand solution that emphasizes the firm's exceptional work and deep bench of talent.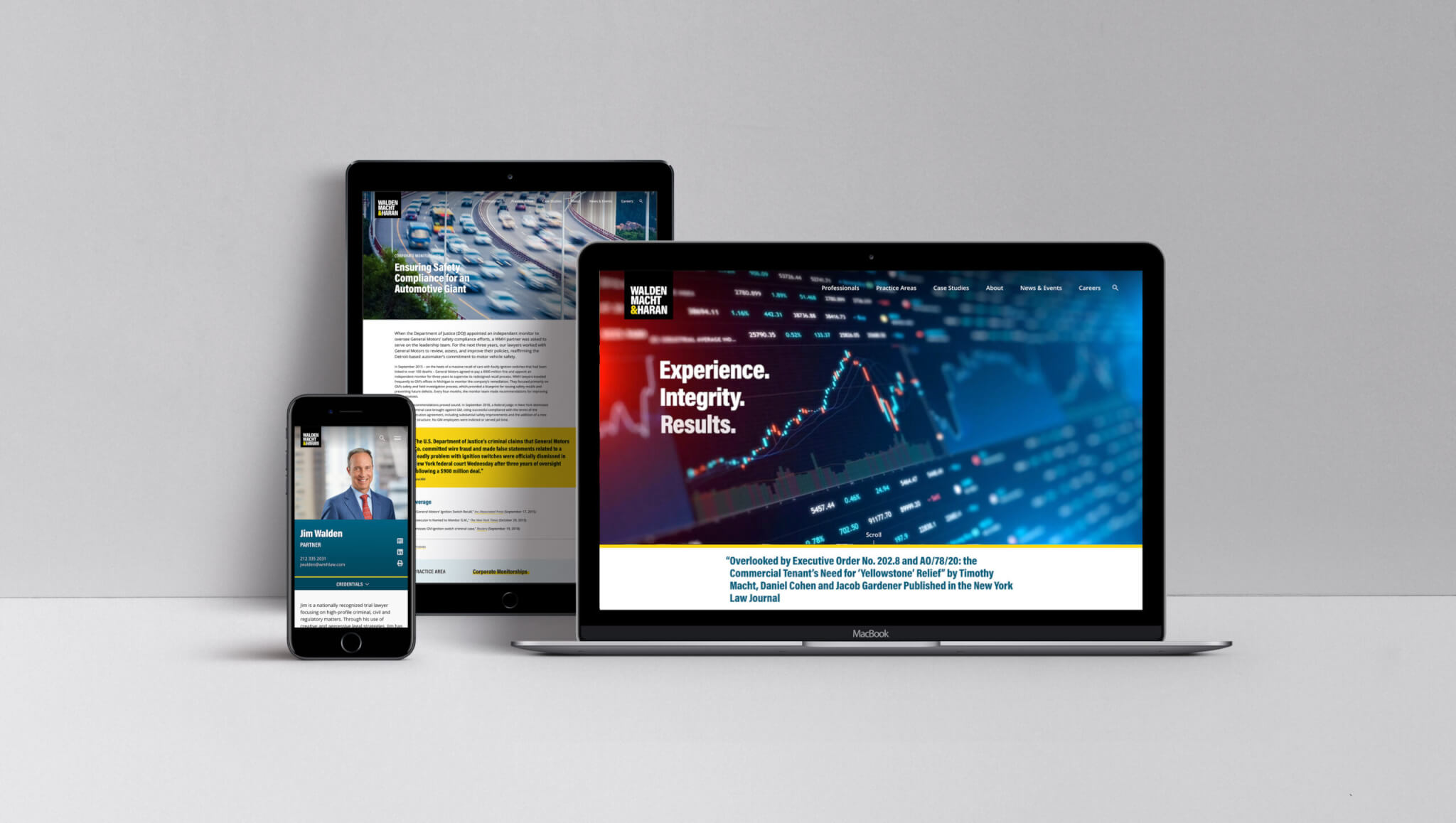 Founded in 2015 by three name partners, law firm Walden Macht & Haran LLP specializes in white collar defense and investigations, complex commercial disputes, monitorships, corporate compliance, and good government. While WMH had quadrupled in size by 2019, large institutional clients remained a business development challenge.
With more and more litigation boutiques on the rise—many, like WMH, with celebrity founders who came from government agencies—the firm needed to carve out a unique brand space that foregrounded its key differentiators: integrity, on-the-ground government experience, and courtroom prowess.
Over the past five years, the New York City market has become more crowded than ever for white collar boutiques. Decker Design created a strong brand identity that cleared a path for our firm to rise above the competition."
We began by collaborating with longtime content partner Deborah Gaines Associates (DGA) on a disciplined research and discovery program. After auditing a group of competitor firms, we concluded that nearly all suffered from critical marketing and branding issues, such as outdated technology, non-responsive websites, long blocks of dense text, and uninspired imagery. Notably, many New York City-based litigation boutiques employed stock photography of the Manhattan skyline as well as a blue and red color palette.
As part of the discovery process, we interviewed partners, associates, and clients, which yielded surprising insights into WMH's services, values, personal qualities, and challenges. We used our findings to develop a comprehensive strategy report that included brand attributes, a defined brand character, proposed brand territories, and recommendations for next steps.
First on the docket was a redesign of the firm's current website, which failed to significantly differentiate WMH from its competitors. We sought to create an expansive design that spoke to the firm's breadth of talent and high-profile victories on an international stage.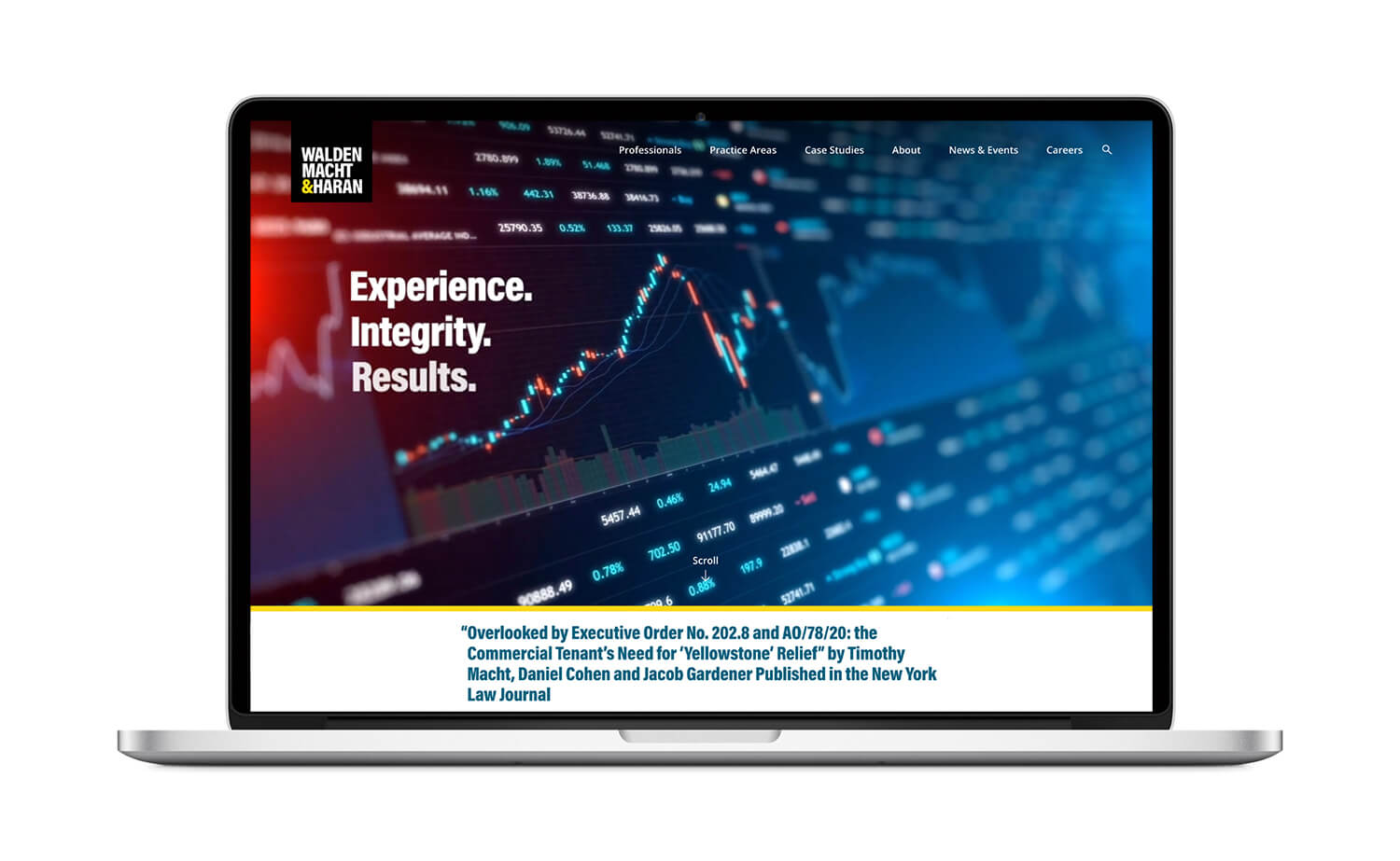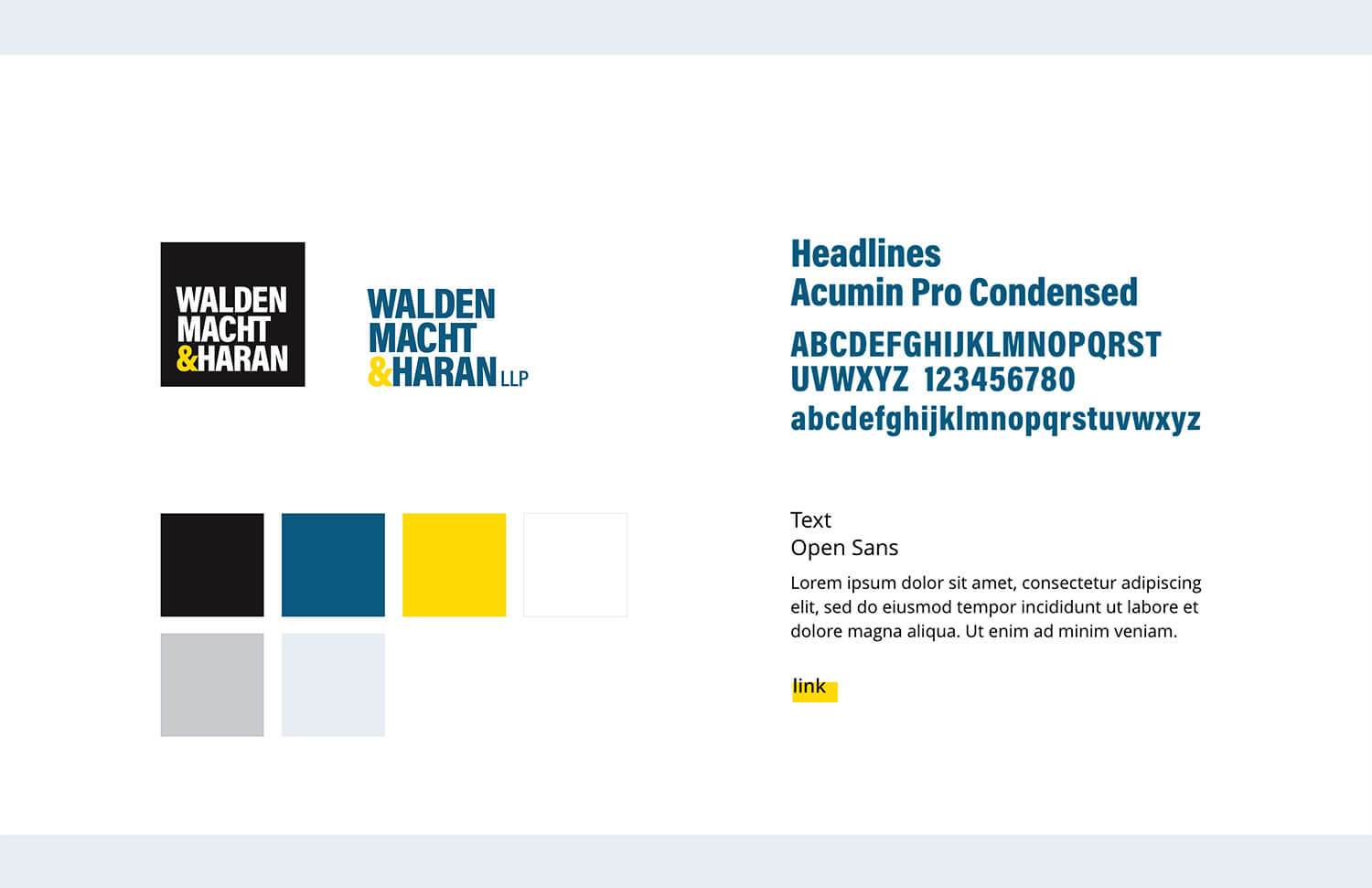 The unorthodox black, yellow, and teal color palette we chose evokes the firm's bold ambitions—a sharp divergence from other firms in the space. We used a blocky, modern type face with bright yellow highlights for emphasis, further underlining WMH's youthful, dynamic energy.
In order to "show rather than tell" site visitors about WMH's expertise and capacity for innovation, we produced a video to replace the typical hero image at the top of the homepage. We interspersed high-tech imagery—alluding to the ways in which white collar crime is largely perpetrated through sophisticated technological means—with clips of Washington, D.C and downtown Manhattan that reference WMH's close ties to government. A quote from Mayor Bill de Blasio and accolades from other notable sources are overlaid over the video to reinforce WMH's high-flying reputation.
The bottom of the homepage is populated by a checkerboard pathway highlighting three areas of strength: groundbreaking work, commitment to diversity, and career development.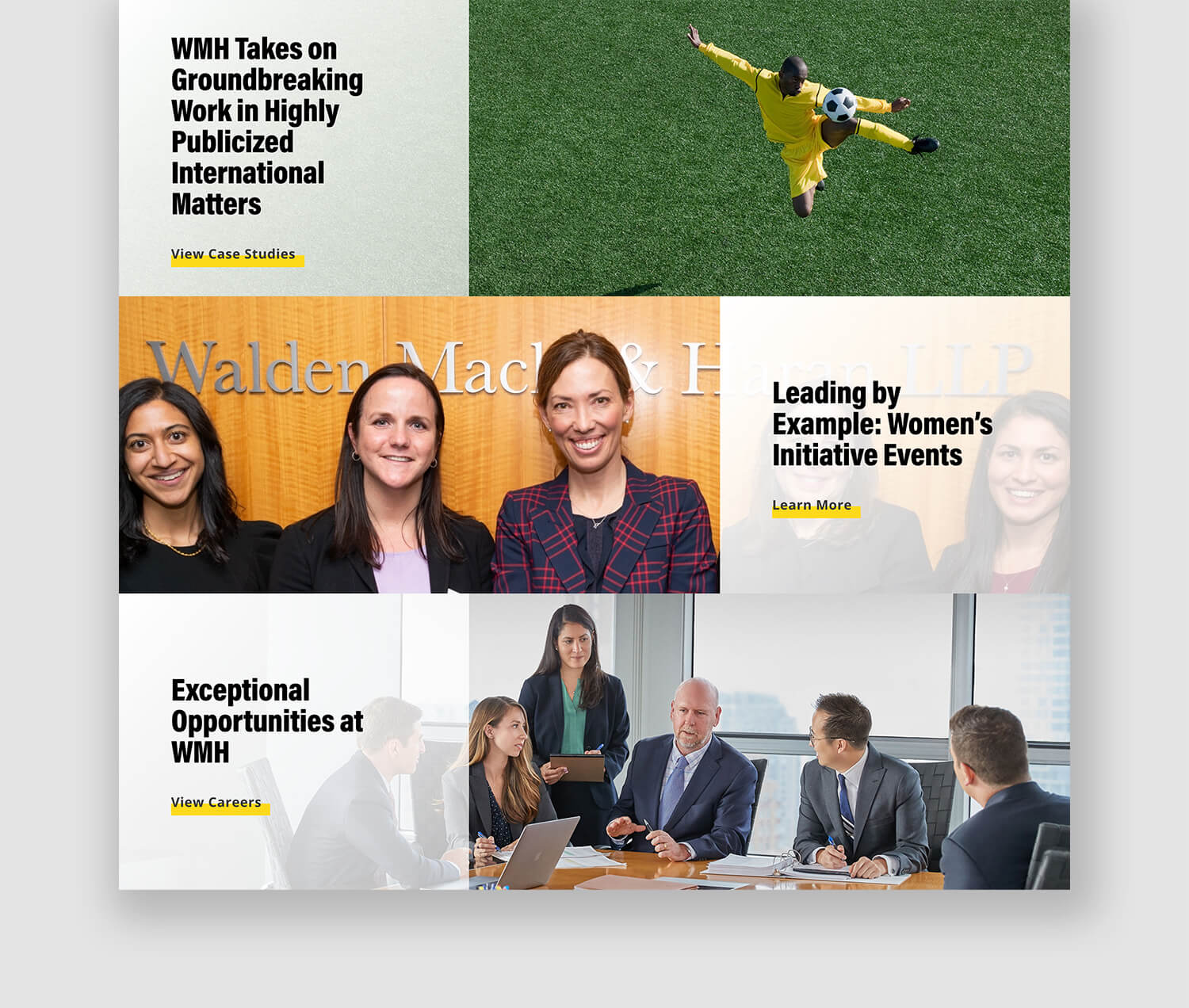 Visitors who click on the "Leading by Example" link will discover the firm's Women's Initiative, which facilitates connection by assembling distinguished women from the worlds of television, film, politics, law, public service, and business.
WMH provides associates with top-tier mentoring and career development opportunities, prompting us to create a robust, engaging careers page to boost recruiting efforts.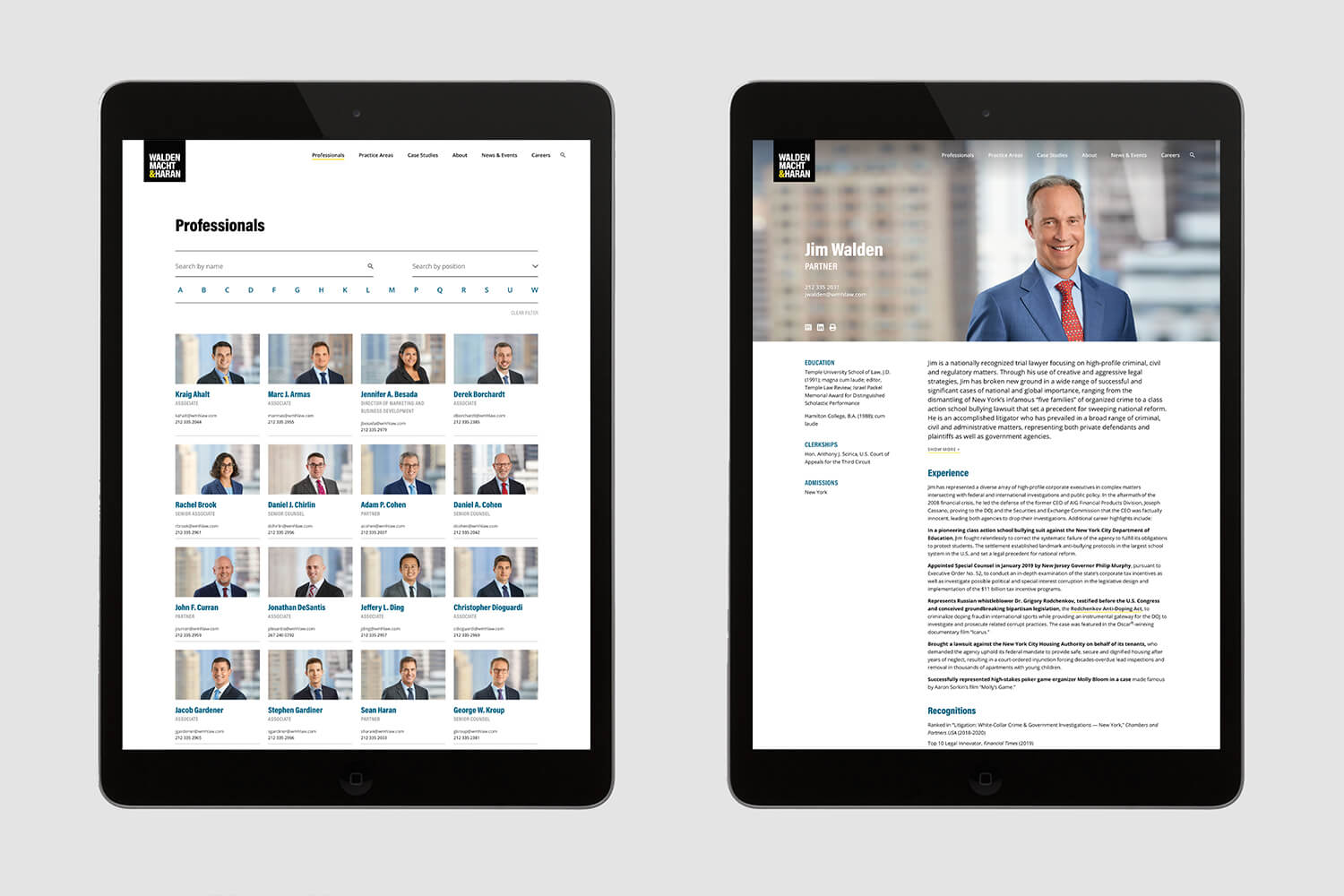 A highly differentiated brand solution that emphasizes the firm's exceptional work and deep bench of talent.
In tandem with DGA, we created a series of five case studies recounting some of the firm's most notable and exciting wins—from a news-making corruption trial to a whistleblower case. We photographed all staff and carefully crafted a unique template to display their biographies.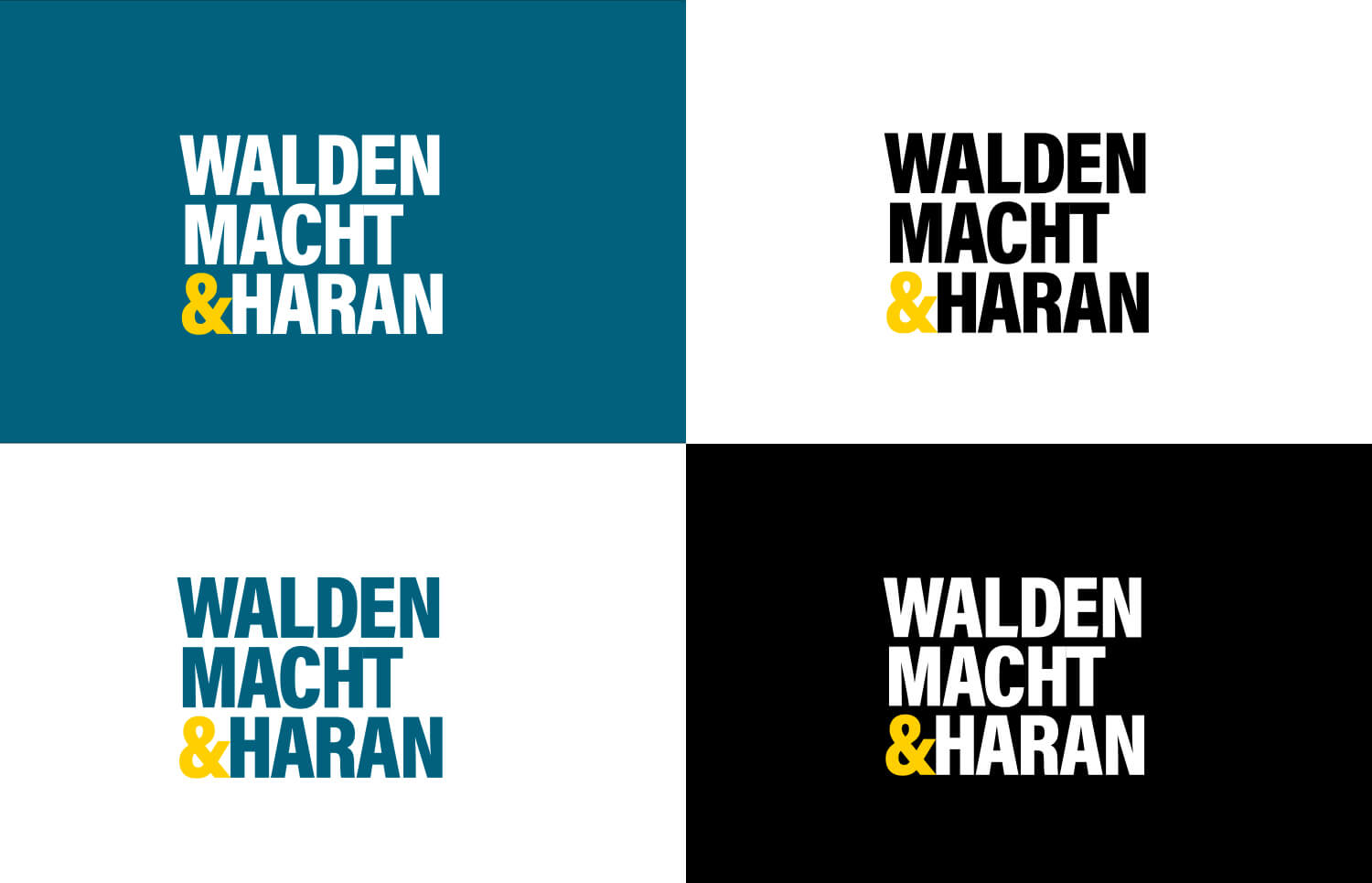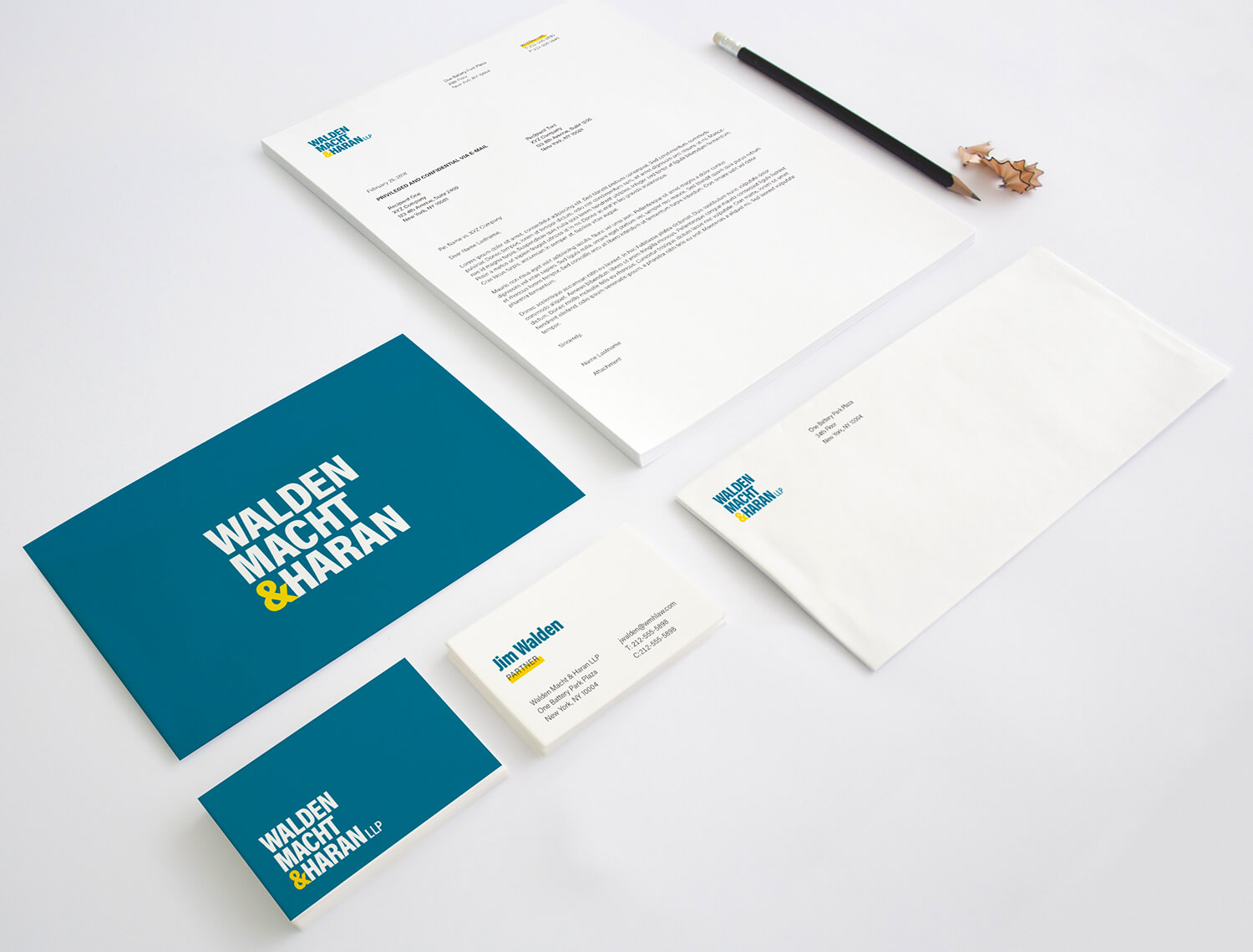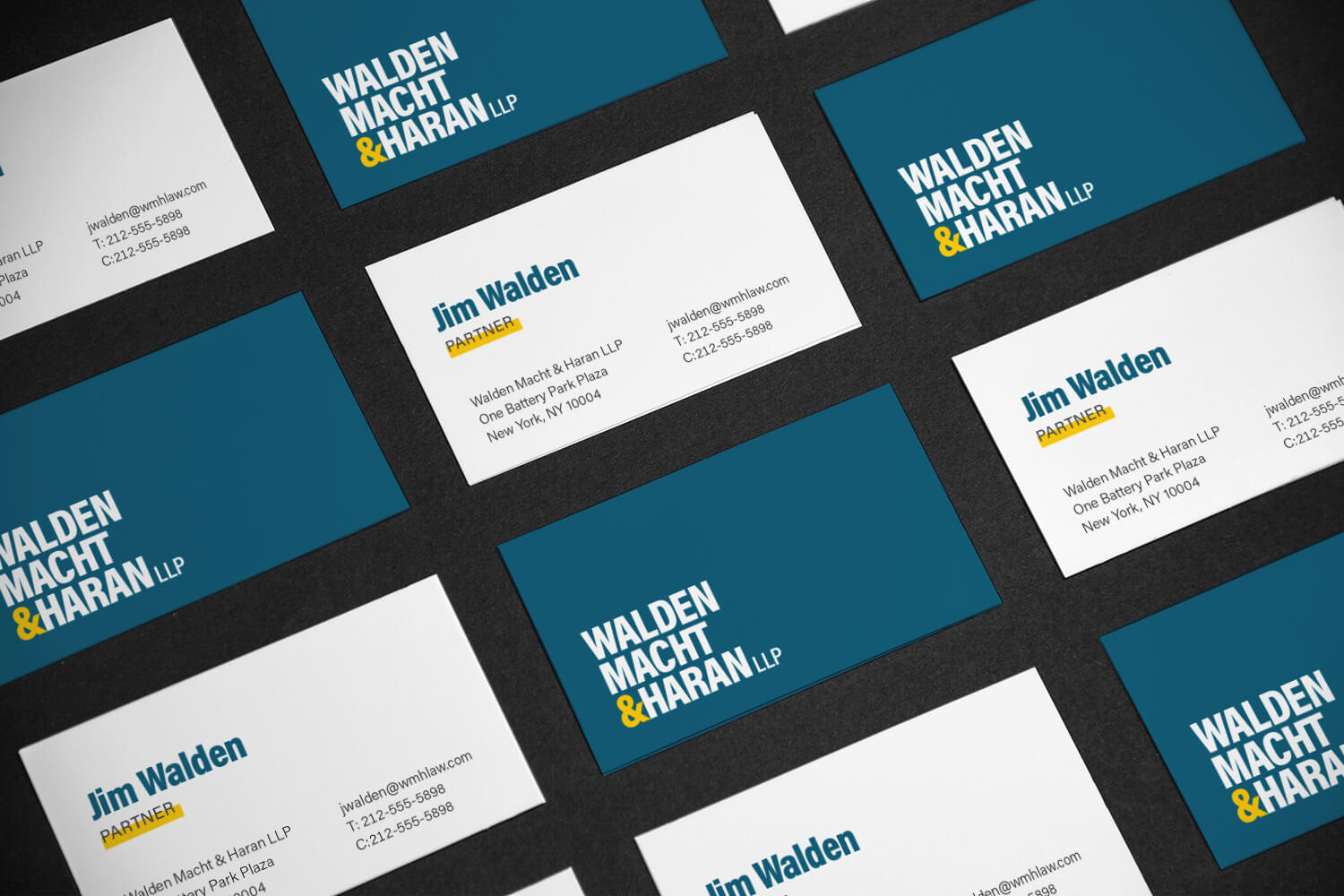 Finally, we produced a new logo, monogram and a brand system to round out the project. Along with the new website, this toolkit ensures that WMH can kick its marketing efforts into high gear—advancing the firm's goal of reaching a wider audience and embarking on a trajectory of continued growth.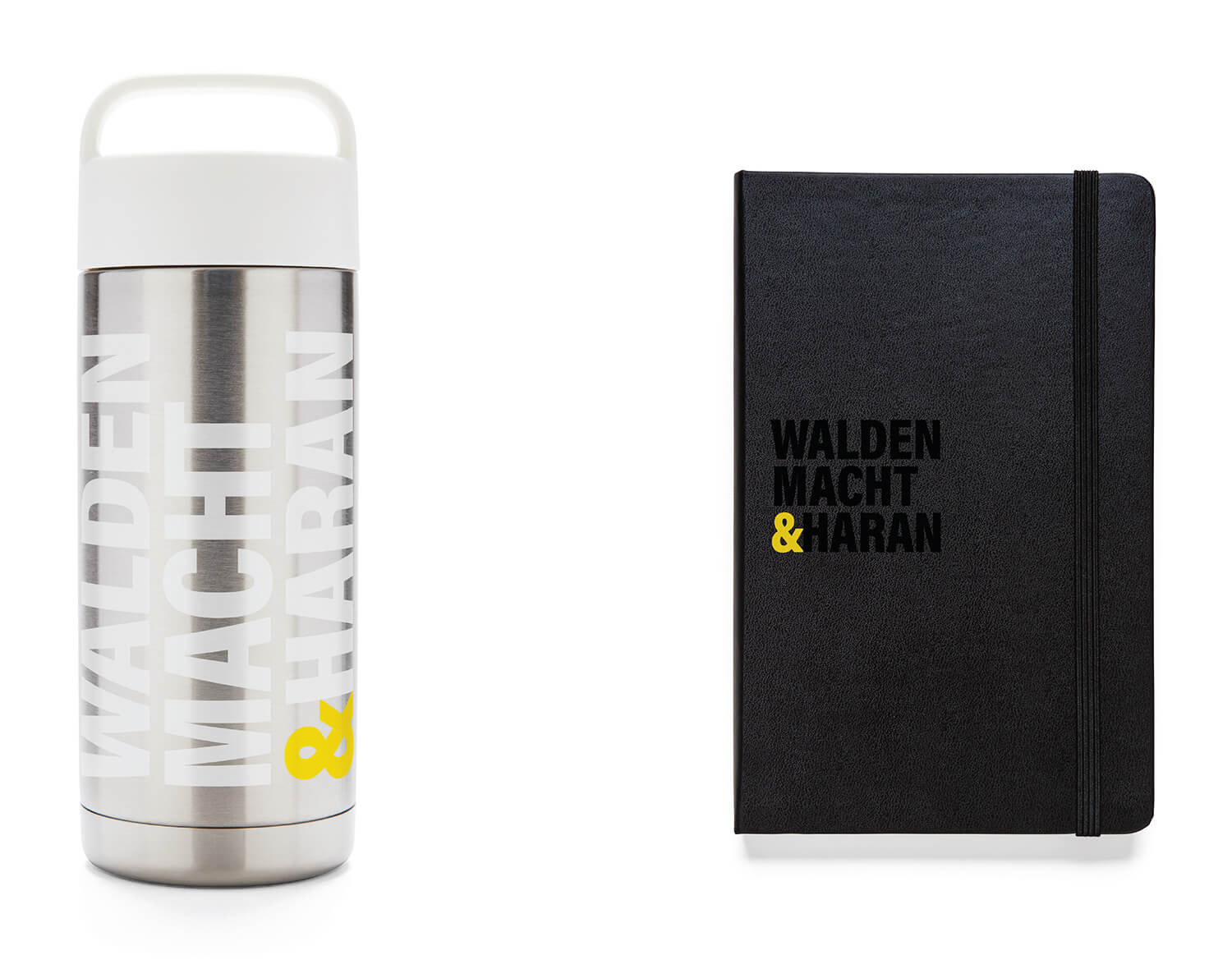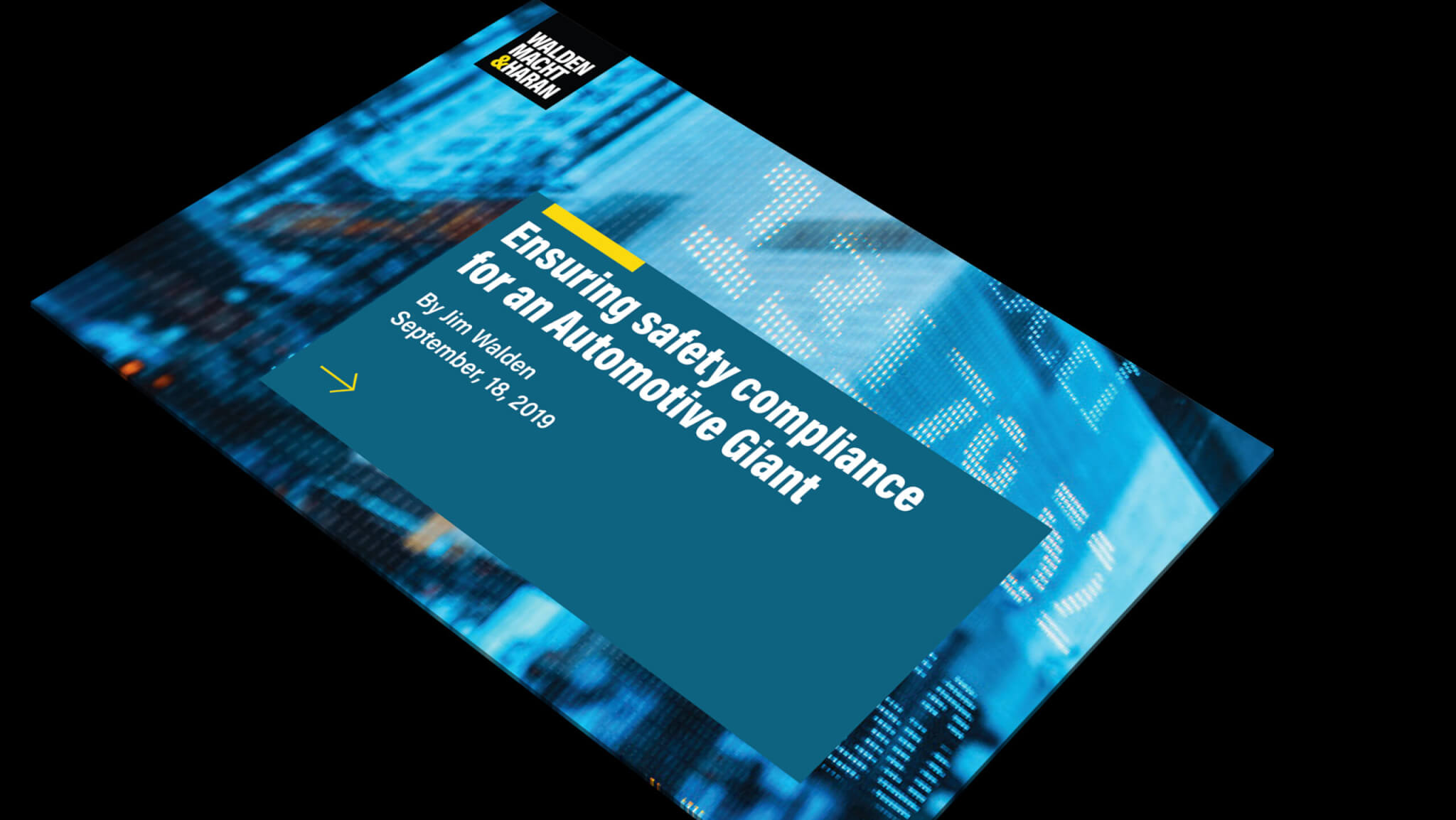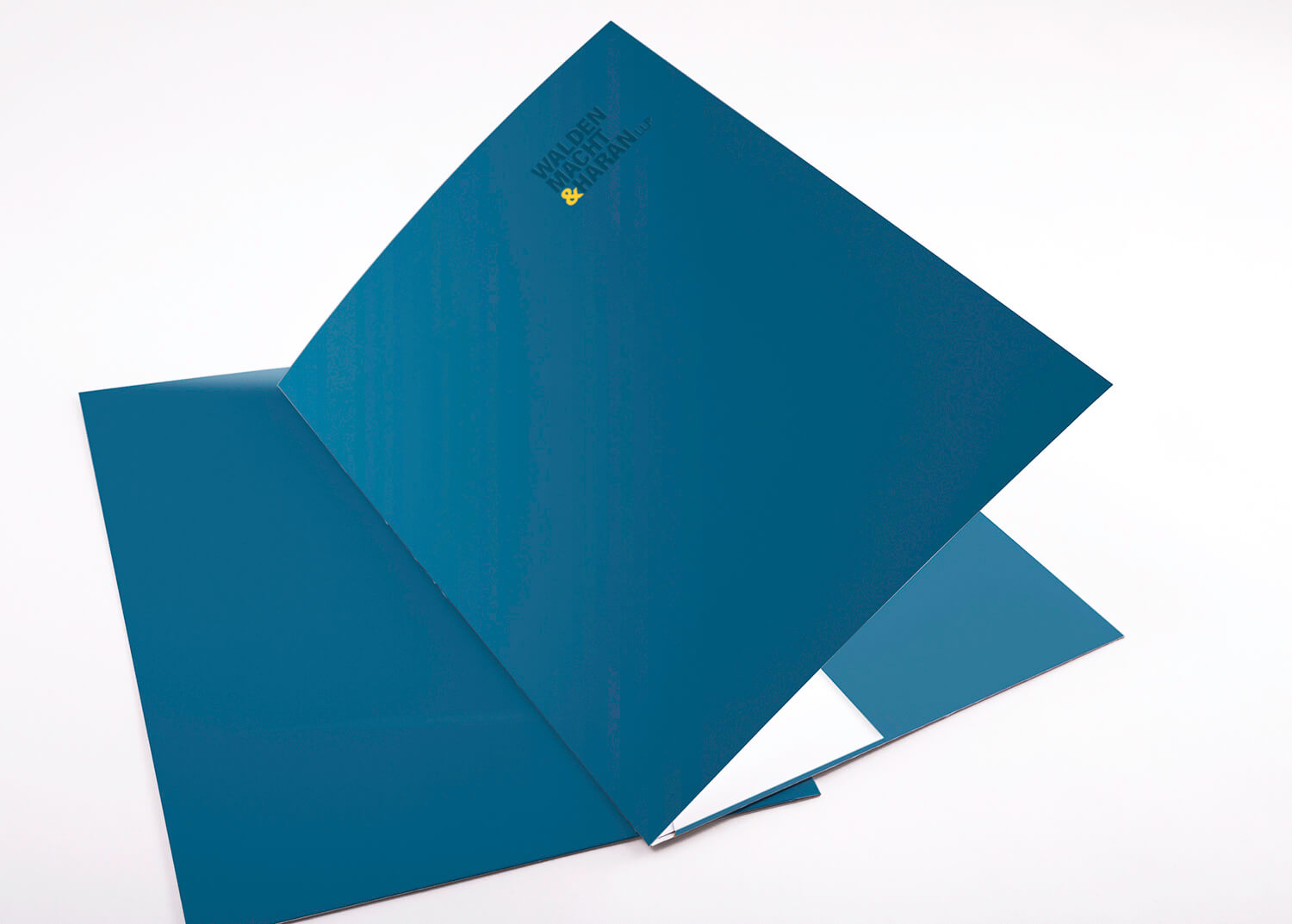 Have a project we can help you with?