No one interested in real communication and connection prefers a one-way conversation, and neither should a financial services firm like yours. You can't build rapport with your customers if the conversation with them isn't mutual. The best way to create the necessary back-and-forth between you and your audience? Engage your customers in a way that elicits their attention and invites their participation.
You're always initiating conversation with your audience through the two main facets of your digital presence—your website and your social media. But if you're not careful you'll just be adding noise to an already crowded space. And finding ways to raise your brand's voice above the din and connect meaningfully to your audience is tougher than ever. So what's a firm to do?
Making sure you're a worthy digital conversation partner is a critical first step. In order to grow a relationship with your prospects and your current customers, your firm first needs to start the conversation with a clear stance—and a compelling voice.
Use This Checklist to Ensure Your Firm Isn't Making Communication Mistakes
It's all too easy to lose qualified prospects because you aren't engaging them in the right way. The last thing you want is to bore or frustrate them. Make sure you assess your efforts with this checklist and ensure you're sidestepping common mistakes.
1. You're Starting the Conversation From the Wrong Place
Any marketing action your firm takes should be firmly rooted in your positioning. That requires knowing your point of differentiation and building a comprehensive strategy around it.
Knowing who your firm is (and isn't) becomes the filter. Ultimately, choices are worthy of your consideration when they align with your brand. When they don't, they're an easy pass.
Before you communicate anything with your audience, make sure you have specific answers to these questions:
Do you have a clear positioning statement that describes who your firm is, what you do, and who you do it for?
Does your positioning statement articulate your unique value proposition?
Are your firm's values informing all parts of your positioning statement?
When you have taken the time to properly develop and articulate your brand positioning, how you should communicate with your chosen audience will be much clearer. All you have to do is ask, does this intended communication align with your positioning? If it does align, then how do you tactically execute that? If the answer is no, can you create alignment?
2. You're Cluttering Your Firm's Message
Without a doubt, you have valuable information to share with prospects and current customers. But presenting financial services expertise in the wrong way can incentivize your audience to click away, not click through. No one wants to negotiate a copy obstacle. Crowded web pages just look like homework.
Financial services firms often default to density, especially in terms of web copy. But more is hardly ever better. If you're concerned about making your brand sustainable now and in the future, you've got to speak in a way your audience is ready and willing to hear. After all, when prospects visit your website, they're coming with problems to solve.
Make it easy for your prospects to find solutions by creating scannable content. Be sure to:
Use sections and subheadings. Small chunks of text allow readers to easily find what they're looking for. Large blocks of text are burdensome and flat-out hard to mentally process.
Utilize white space. Space between and around sections of copy help your audience focus and avoid sensory overload.
Keep text direct and succinct. Shorter paragraphs and sentences are easier to digest. A reader's eyes can move quickly and naturally from one section to the next. Long, complicated paragraphs can be intimidating.
Make lists. Bullet points and numbered lists pack a punch. You can deliver a lot of information simply—in an uncluttered way.
Write how people speak. Compose copy that reflects how your prospects speak—not industry insiders.
Use bold text. Bold text can highlight important terms and resources.
3. You're Telling Instead of Showing
Breaking up copy with white space is important, and so is breaking up copy with visuals (including video). Visuals have potential to capture your audience's attention more effectively than words do. They're powerful tools for amplifying the message of your copy by showing, not telling.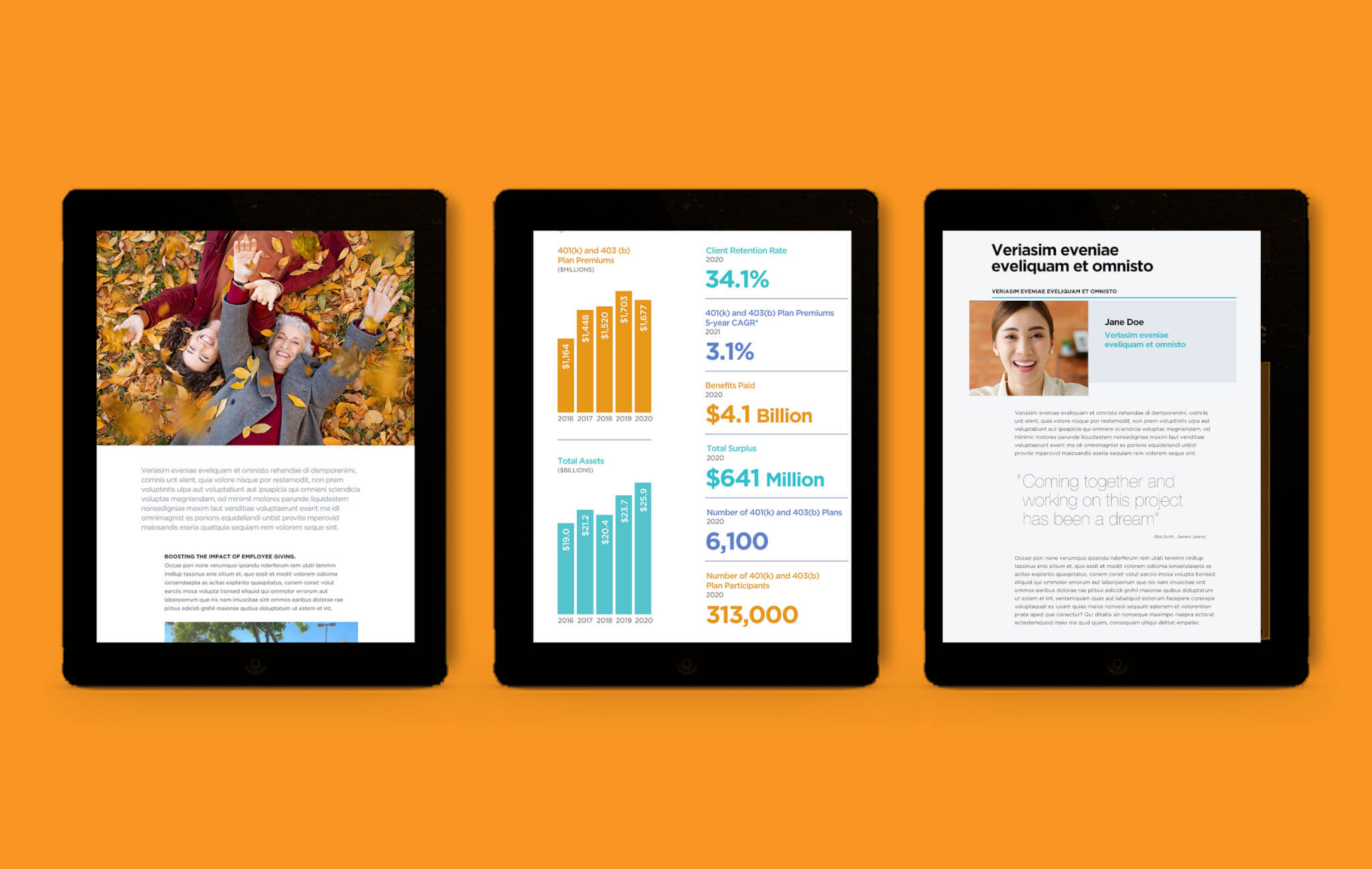 4.  You're Sharing the Same Old Story in the Same Old Way
Unconscious mimicry abounds. Every industry has communications conventions. So be aware what the conventions currently are in the financial services space—so you can avoid them. Using the same stock photos, colors, type and sidekicks as your competitors simply washes out your differentiating factor—which brand awareness depends on.
If everyone is leaning right, maybe your firm ought to lean left. And at the very least, if your firm decides to lean right, make sure your choice is rooted in your positioning and overall strategy.
5. You're Treating Social Media Like an Afterthought
Your social media channels should pull their weight. They're powerful marketing tools that reinforce your positioning and further develop a visually identifiable brand. Diminishing their value is a grave mistake.
Invest in social media just as you do in your website. Use Twitter to communicate firm news and answer questions, and leverage Instagram to humanize your brand with candid photos. LinkedIn is an ideal channel for educating prospects with links to relevant articles on your site. And consider experimenting with Clubhouse—you may find it an ideal platform to build real-time relationships with future customers.
Use social media skillfully. Your digitally savvy generation Y and Z audiences expect to be able to engage with you on social, potentially via several channels. This is today's version of your prospects calling. And your firm should answer.
Communications by Financial Services Experts Should Be Simple
The future of financial services firms depends in part on their marketing professionals' ability to communicate effectively. Sometimes experts inadvertently communicate in a way that's overly complicated or ineffective. It's your job to nip that in the bud.
Because if your audience feels like they need help translating your firm's messages, they'll opt out.
Keep conversation simple, clean and focused. And most importantly, make sure conversation with your audience is flowing from a place of solid positioning.